Browse Products & Services
DrayTek Vigor ippbx 3510


دعم ثمان خطوط خارجية
دعم مائة خط داخلي
دمج خطين أنترنت
عدد 4 منافذ اتصال جيجا ايثرنت عالية السرعة
يوفر اتصالات أمنة بين المواقع البعيدة من خلا ل ال vpn
عدد 32 قناة اتصال VPN للوصول من المواقع البعيدة
خدمة البريد الصوتي
الوصول عن بعد رسائل البريد الصوتي
يدعم جهاز الفاكس التماثلي T.38
جهاز الفاكس الافتراضي
مناسب للشركات والفنادق والمكاتب
DryTek Vigor bx 2000ac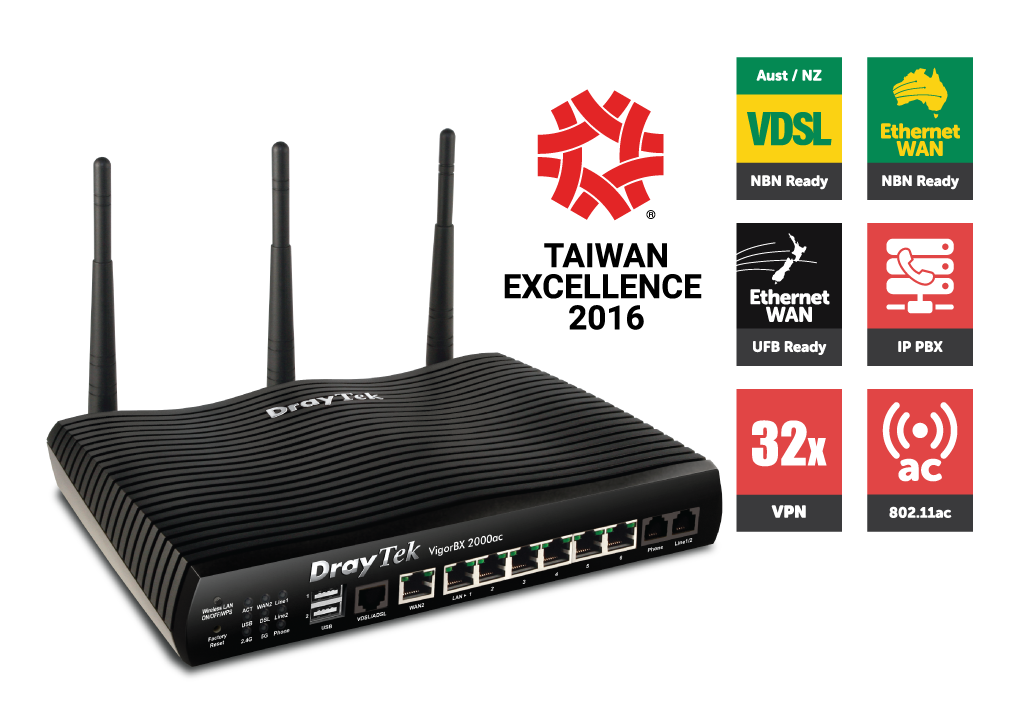 1 x ADSL2/VDSL2 Port (WAN-1), RJ-11 for Annex A/RJ-45 for Annex B
1 x 1000Base-TX, RJ-45 (WAN-2)
6 x 10/100/1000Base-TX LAN, RJ-45
3 x Detachable Antennas
1 x FXS and 2 x FXO, RJ11
2 x USB Host 2.0
1 x Factory Reset Button
1 x Wireless On/Off/ WPS Button

DrayTek Vigor IPPBX 2820n


دي أس أل راوتر بجدار حماية ناري مدمج
عدد 32 قناة اتصال VPN للوصول من المواقع البعيدة
خدمة البريد الصوتي
الوصول عن بعد رسائل البريد الصوتي
منفذين اتصال WAN للاتصال بالأنترنت
منفذين ISDN
شبكة لاسلكية 8.11n علية السرعة مع نطاق تغطية كبير
منفذ اتصال USB للاتصال بالأنترنت أينما كنت وقت ما تريد
يدعم جهاز الفاكس التماثلي T.38
جهاز الفاكس الافتراضي

Yeastar S20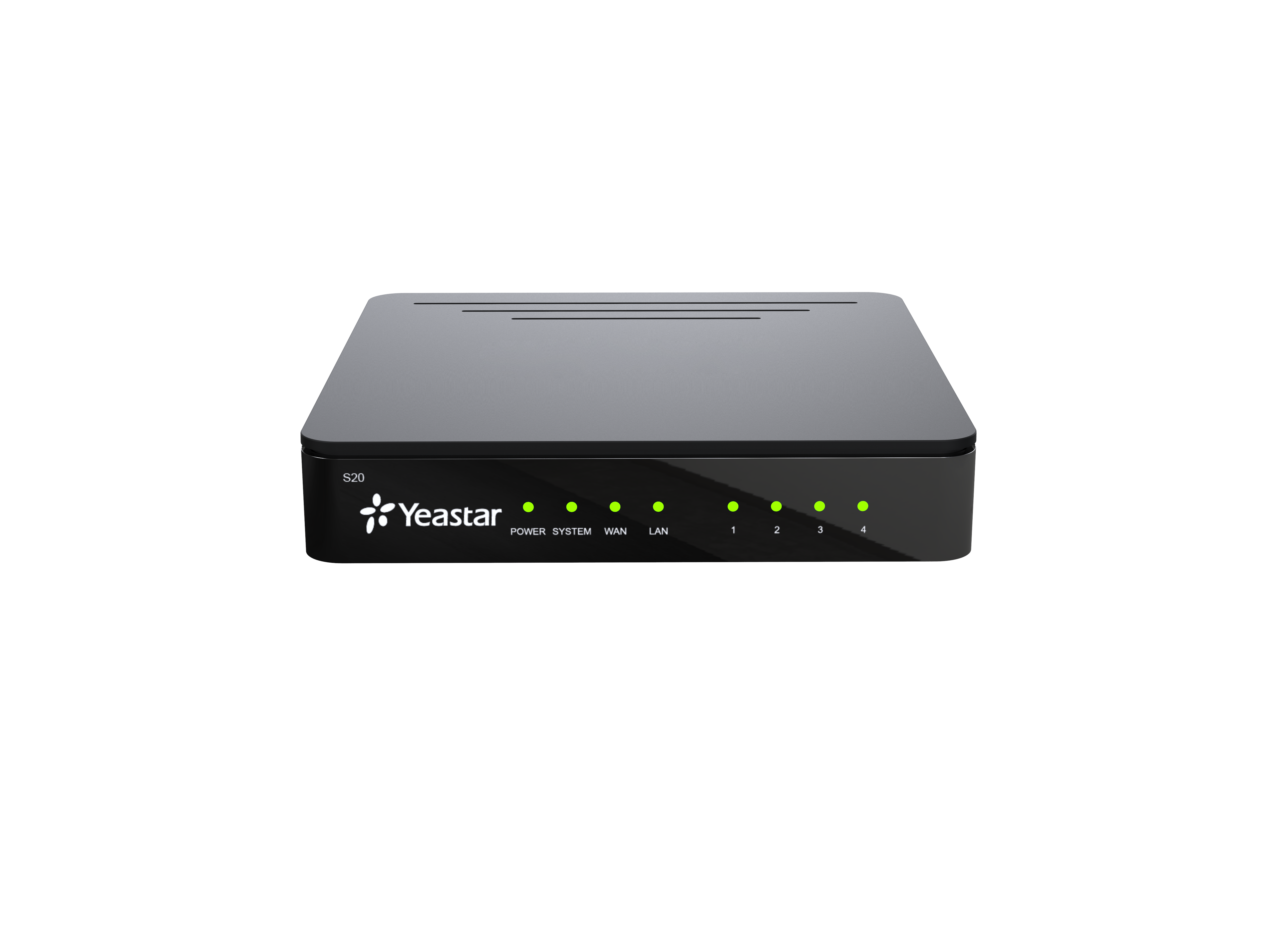 20 Users
10 Concurrent Calls
Up to 4 FXS/FXO/BRI Ports
Up to 1 GSM/3G/4G Channel


Yeastar S50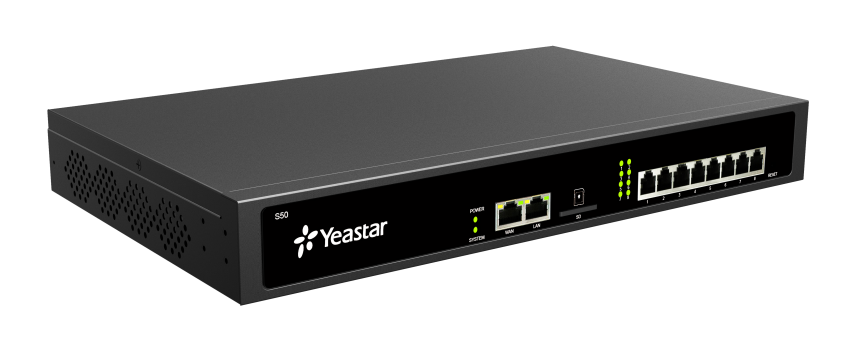 50 Users
25 Concurrent Calls
Up to 8 FXS/FXO/BRI Ports
Up to 4 GSM/3G/4G Channel


yeastar S100


100 Users (expandable to 200)
30 Concurrent Calls (expandable to 60)
Up to 16 FXS/FXO/BRI Ports
Up to 6 GSM/CDMA/3G/4G Channels
Up to 2 E1/T1/PRI Ports

Yeastar S300

300 Users (expandable to 500)
60 Concurrent Calls (expandable to 120)
Up to 24 FXS/FXO/BRI Ports
Up to 6 GSM/CDMA/3G/4G Channels
Up to 3 E1/T1/PRI Ports

Grand stream UCM6202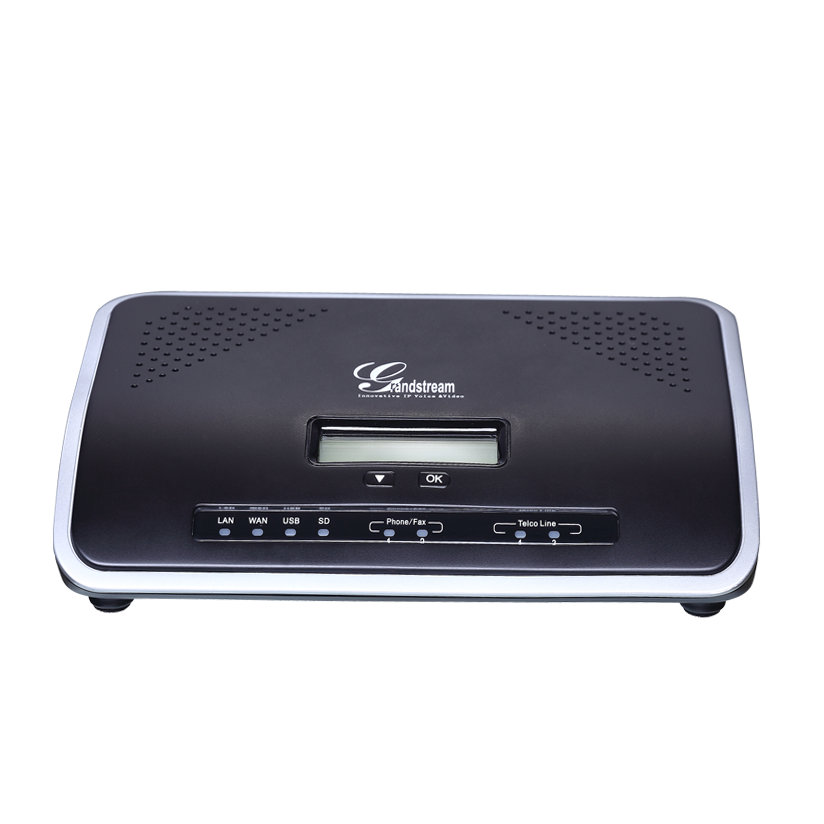 Supports up to 500 SIP endpoint registrations, up to 60 concurrent calls and up to 32 conference attendees
1GHz ARM Cortex A8 processor
512 MB DDR Ram, 4GB NAND Flash
Integrated 2/4/8/16 PSTN trunk FXO ports, 2 analog telephone FXS ports with lifeline capability and up to 50 SIP trunk accounts
Gigabit network ports with Integrates PoE, USB, SD card
UCM6102 includes an integrated NAT router and built-in firewall
Comprehensive security protection using SRTP, TLS and HTTPS with hardware encryption accelerator, Fail2ban, Whitelist, Blacklist, alerts and more to protect against attacks

Grand stream UCM6204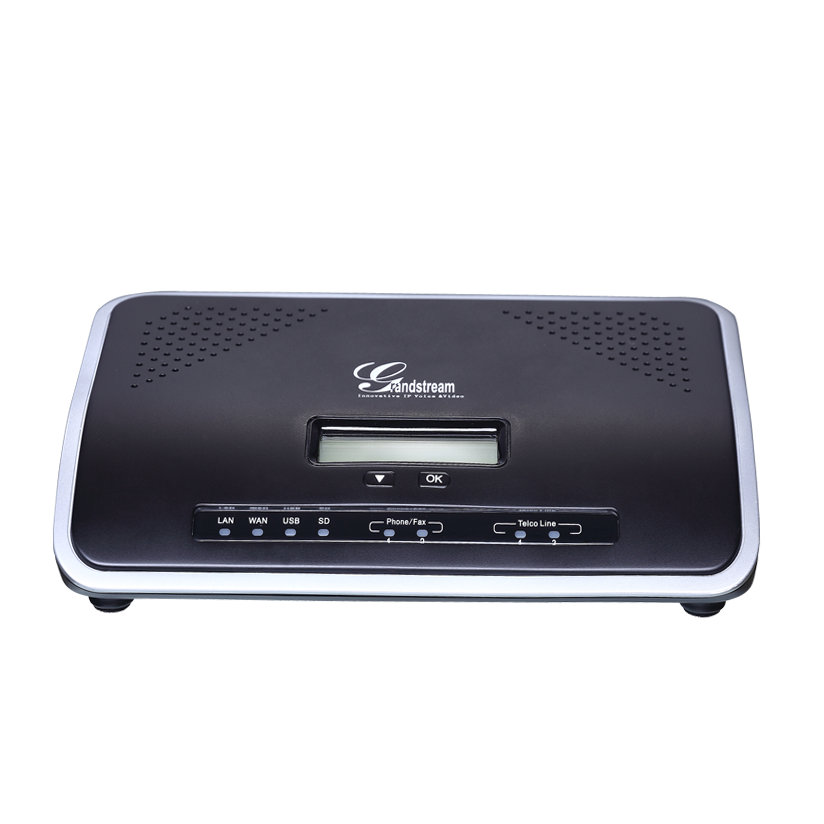 Supports up to 500 SIP endpoint registrations, up to 60 concurrent calls and up to 32 conference attendees
1GHz ARM Cortex A8 processor
512 MB DDR Ram, 4GB NAND Flash
Integrated 2/4/8/16 PSTN trunk FXO ports, 2 analog telephone FXS ports with lifeline capability and up to 50 SIP trunk accounts
Gigabit network ports with Integrates PoE, USB, SD card
UCM6102 includes an integrated NAT router and built-in firewall
Comprehensive security protection using SRTP, TLS and HTTPS with hardware encryption accelerator, Fail2ban, Whitelist, Blacklist, alerts and more to protect against attacks

Grand stream UCM6208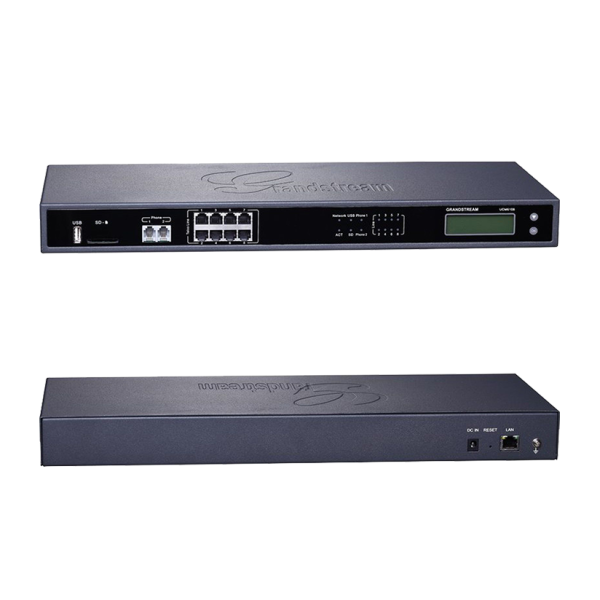 Supports up to 500 SIP endpoint registrations, up to 60 concurrent calls and up to 32 conference attendees
1GHz ARM Cortex A8 processor
512 MB DDR Ram, 4GB NAND Flash
Integrated 2/4/8/16 PSTN trunk FXO ports, 2 analog telephone FXS ports with lifeline capability and up to 50 SIP trunk accounts
Gigabit network ports with Integrates PoE, USB, SD card
UCM6102 includes an integrated NAT router and built-in firewall
Comprehensive security protection using SRTP, TLS and HTTPS with hardware encryption accelerator, Fail2ban, Whitelist, Blacklist, alerts and more to protect against attacks

Grand stream UCM 6216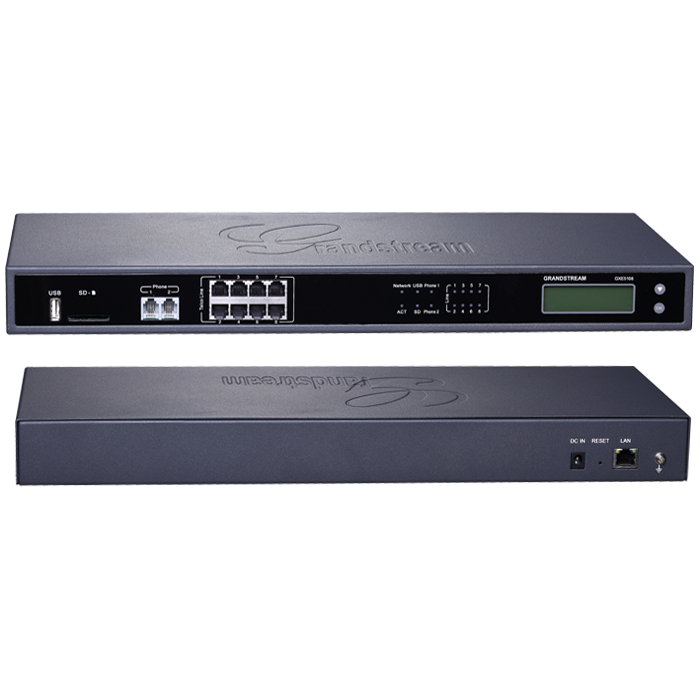 Supports up to 500 SIP endpoint registrations, up to 60 concurrent calls and up to 32 conference attendees
1GHz ARM Cortex A8 processor
512 MB DDR Ram, 4GB NAND Flash
Integrated 2/4/8/16 PSTN trunk FXO ports, 2 analog telephone FXS ports with lifeline capability and up to 50 SIP trunk accounts
Gigabit network ports with Integrates PoE, USB, SD card
UCM6102 includes an integrated NAT router and built-in firewall
Comprehensive security protection using SRTP, TLS and HTTPS with hardware encryption accelerator, Fail2ban, Whitelist, Blacklist, alerts and more to protect against attacks

TA2400


Connections: 24x RJ11 FXS, 1x RJ21 FXS
Switch Port: 1x 10/100Base-T Ethernet
Protocol Support: SIP, IAX2
Audio Codecs: G.711a/u-law, G.722, G.723, G.726, G.729A, GSM
Fax Codecs: T.38 & pass-through
Echo Cancellation: yes
QoS: supported
Management: via web UI
Dimensions: 17.32" x 9.84" x 1.73"
Mounting: desktop, rack

TE100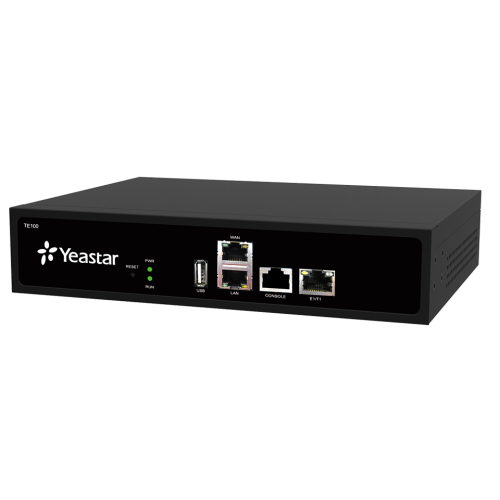 Connections: 1x T1
Switch Port: 2x 10/100 Mbps (LAN/WAN)
Addt'l Port: USB
Concurrent Calls: up to 30
Protocol Support: SIP (RFC3261)
Signalling Support: PRI, MFC R2, SS7, E&M
Audio Codecs: G.711a/u-law, G.722, G.726, G.729A, GSM
Fax Codecs: T.38
Echo Cancellation: yes
QoS: supported
Management: via web UI
Dimensions: 8.39" x 6.30" x 1.73"

Grand stream GXP1620 / GXP1625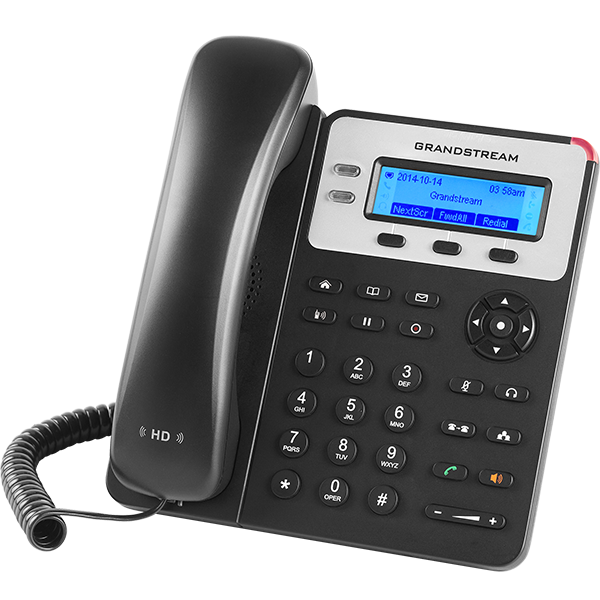 2 SIP accounts, 2 line keys, 3-way conferencing, 3 XML programmable context-sensitive soft keys
Dual-switched 10/100 mbps ports, integrated PoE on GXP1625
HD audio on speakerphone and handset
EHS support for Plantronics headsets
Up to 500 contacts, call history up to 200 records

Grand stream DP715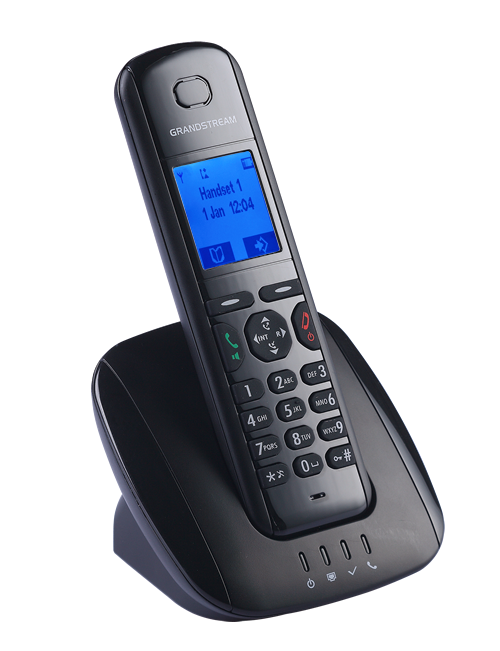 DP715 includes the bases station and handset; DP710 includes one handset
Ring Group/Hunt Group (linear mode, shared line mode, parallel mode)
when multiple handsets share the same SIP account
Range of 300 meters outdoors and 50 meters indoors
DECT base station allows 5 registered DECT handsets and up to 4 concurrent calls
10 hour talk time, 80 hour standby time

Grand stream GXP2135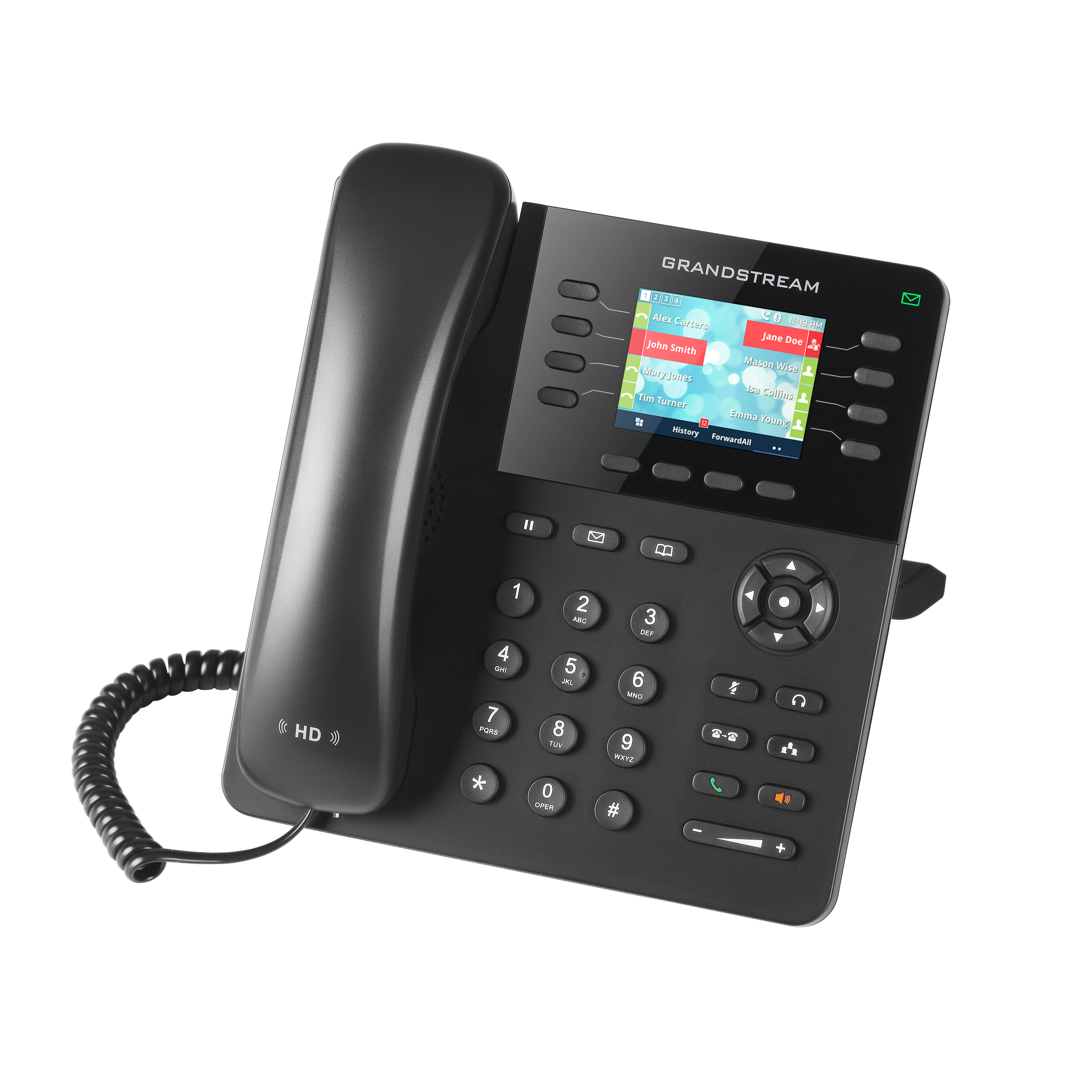 8 lines, 4 SIP accounts, 4 XML programmable context-sensitive soft keys
Dual switched, auto-sensing Gigabit ports, built-in PoE
32 digitally programmable and customizable BLF/speed-dial keys
Built-in Bluetooth for syncing headsets and mobile devices for contact books, calendars & call transferring
HD audio on the handset and speakerphone; full duplex speakerphone
Supports EHS compatible Plantronics headsets
4-way audio conferencing for easy conference calls

Grand stream GXP2170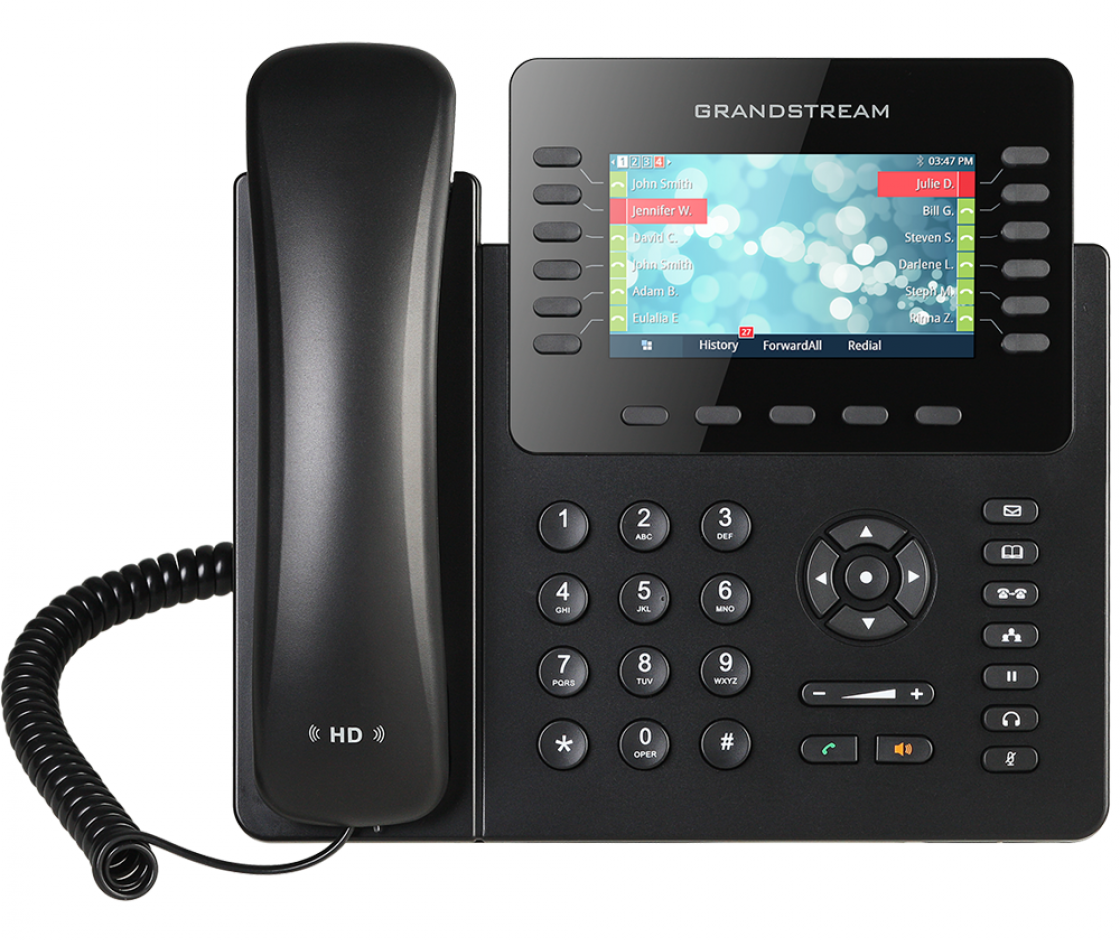 12 lines, 6 SIP accounts, 5 soft keys and 5-way voice conferencing
48 on-screen digitally customizable BLF/speed-dial keys
4.3 inch (480x272) color-screen LCD
Dual Gigabit ports, integrated PoE
Integrated Bluetooth
Supports up to four GXP2200EXT Modules for BLF/speed-dial access to up to 160 contacts

Grand stream GXV3240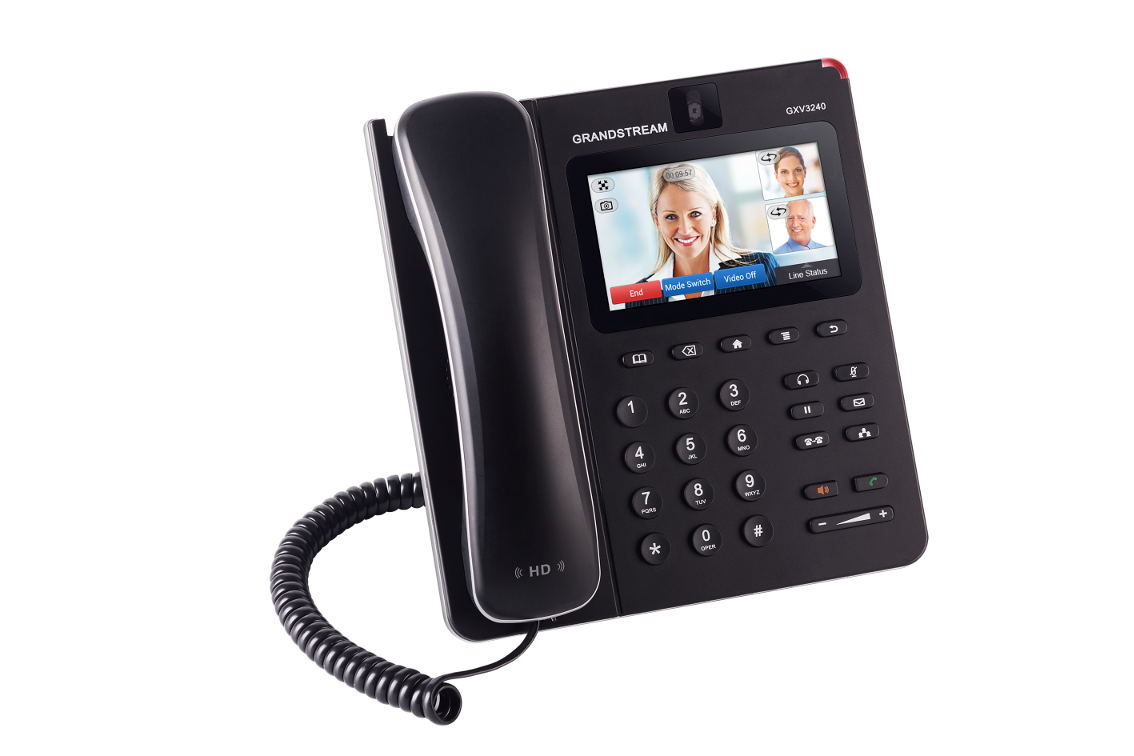 6 lines 6 SIP accounts, FREE IP VideoTalk account for video calling, up to 6-way voice conferencing and 3-way video conferencing
Dual-switched Gigabit ports and integrated WiFi (802.11b/g/n)
1 megapixel CMOS camera
4.3 inch (480x272) capacitive touch screen
Runs Android version 4.2 and offers full access to the Google Play Store
Bluetooth for headsets and pairing mobile devices, USB port, SD card slot, mini-HDMI output for connection to TV monitor, EHS for Plantronics headsets
Create an Android app for your business to run on the GXV3240 using Google's API and Grandstream's SDK tool kit

Grand stream GXV3275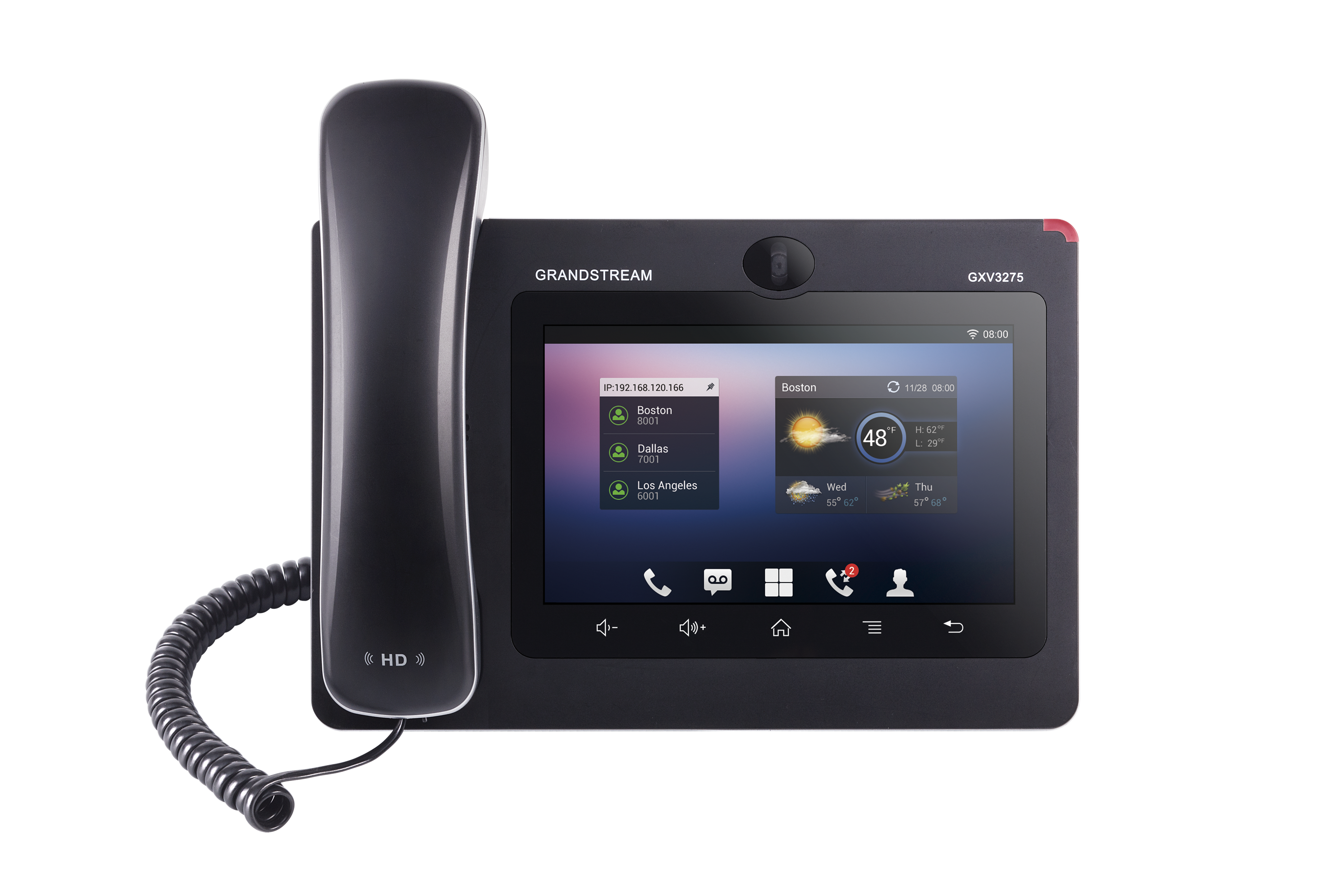 6 lines 6 SIP accounts, FREE IP VideoTalk account for video calling, up to 6-way voice conferencing and 3-way video conferencing
Runs Android version 4.2 and offers full access to the Google Play Store
CMOS camera
7 inch (1024x600) capacitive touch screen
Dual-switched Gigabit ports and integrated WiFi (802.11b/g/n)
Bluetooth for headsets and pairing mobile devices, USB port, SD card slot, mini-HDMI output for connection to TV monitor
Create an Android app for your business to run on the GXV3275 using Google's API and Grandstream's SDK tool kit

yeastar S100 Configuration
TG100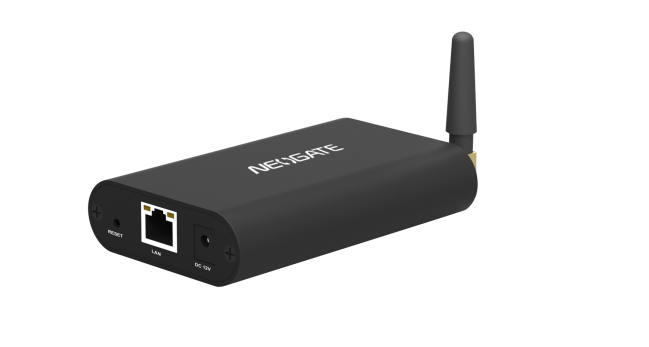 Channels: 1x GSM/CDMA/UMTS
GSM Frequency: 850/900/1800/1900MHz
CDMA Frequency: 800MHz
UMTS Frequency: 850/1900, 850/2100, 900/2100MHz
Switch Port: LAN 10/100Base-T
Protocol Support: SIP, IAX2
Audio Codecs: G.711a/u-law, G.722, G.726, G.729A, GSM, ADPCM, Speex
Echo Cancellation: yes
Management: web UI
Dimensions: 4.33" x 2.76" x 0.94"

TG200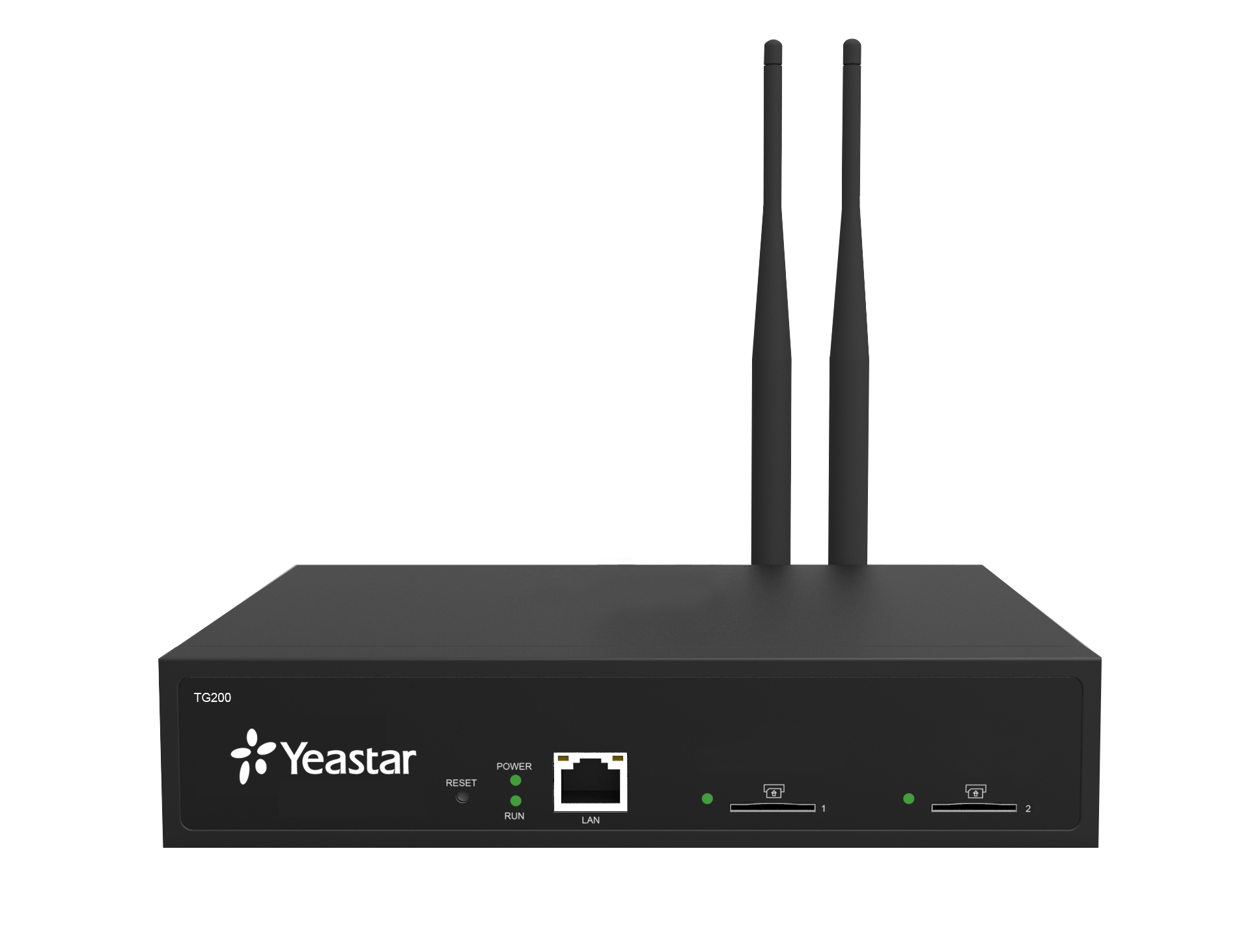 Channels: 2x GSM/CDMA/UMTS
GSM Frequency: 850/900/1800/1900MHz
CDMA Frequency: 800MHz
UMTS Frequency: 850/1900, 850/2100, 900/2100MHz
Switch Port: LAN 10/100Base-T
Protocol Support: SIP, IAX2
Audio Codecs: G.711a/u-law, G.722, G.726, G.729A, GSM, ADPCM, Speex
Echo Cancellation: yes
Management: web UI
Dimensions: 8.39" x 6.30" x 1.73"

TG400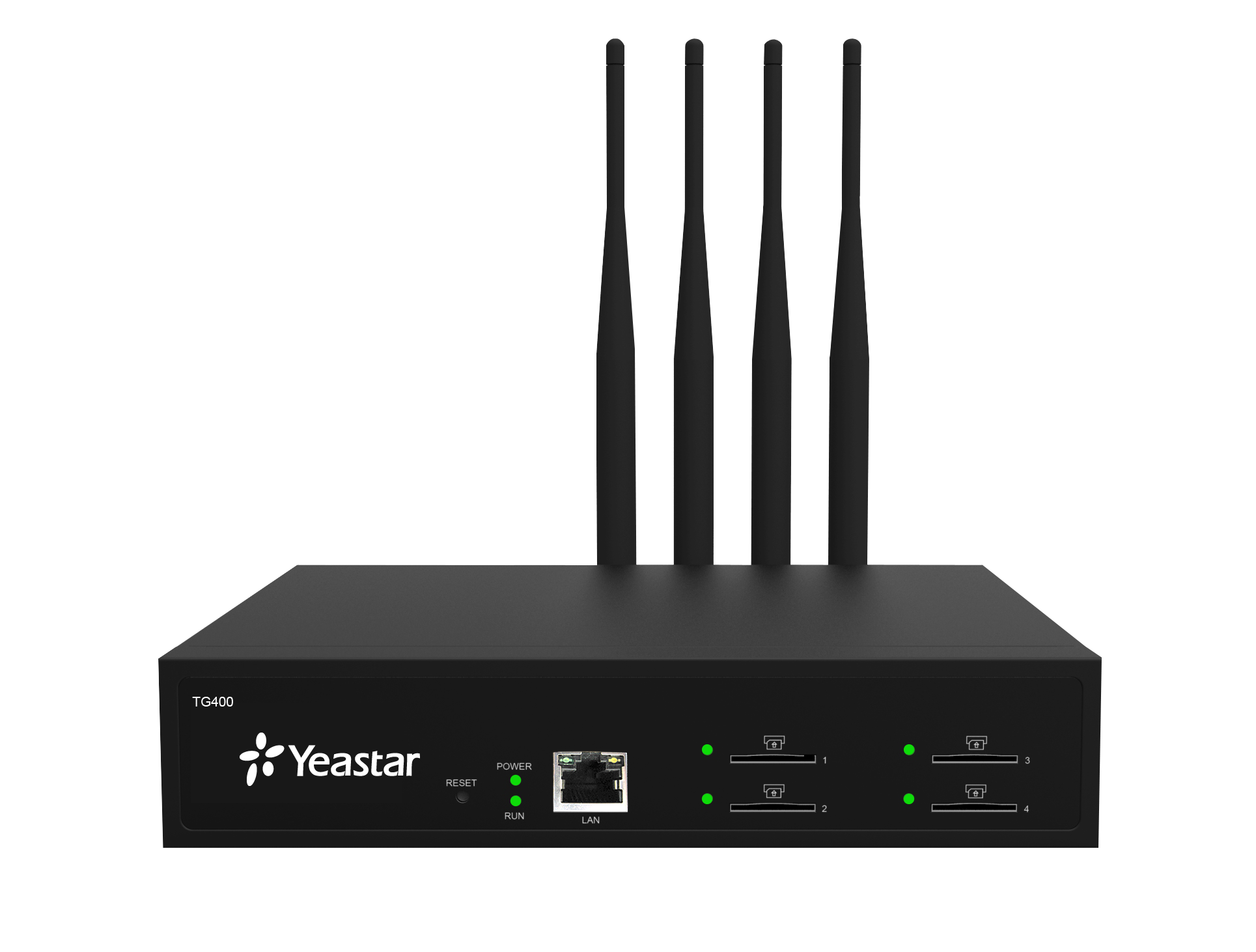 Channels: 4x GSM/CDMA/UMTS
GSM Frequency: 850/900/1800/1900MHz
CDMA Frequency: 800MHz
UMTS Frequency: 850/1900, 850/2100, 900/2100MHz
Switch Port: LAN 10/100Base-T
Protocol Support: SIP, IAX2
Audio Codecs: G.711a/u-law, G.722, G.726, G.729A, GSM, ADPCM, Speex
Echo Cancellation: yes
Management: web UI
Dimensions: 8.39" x 6.30" x 1.73"

TG800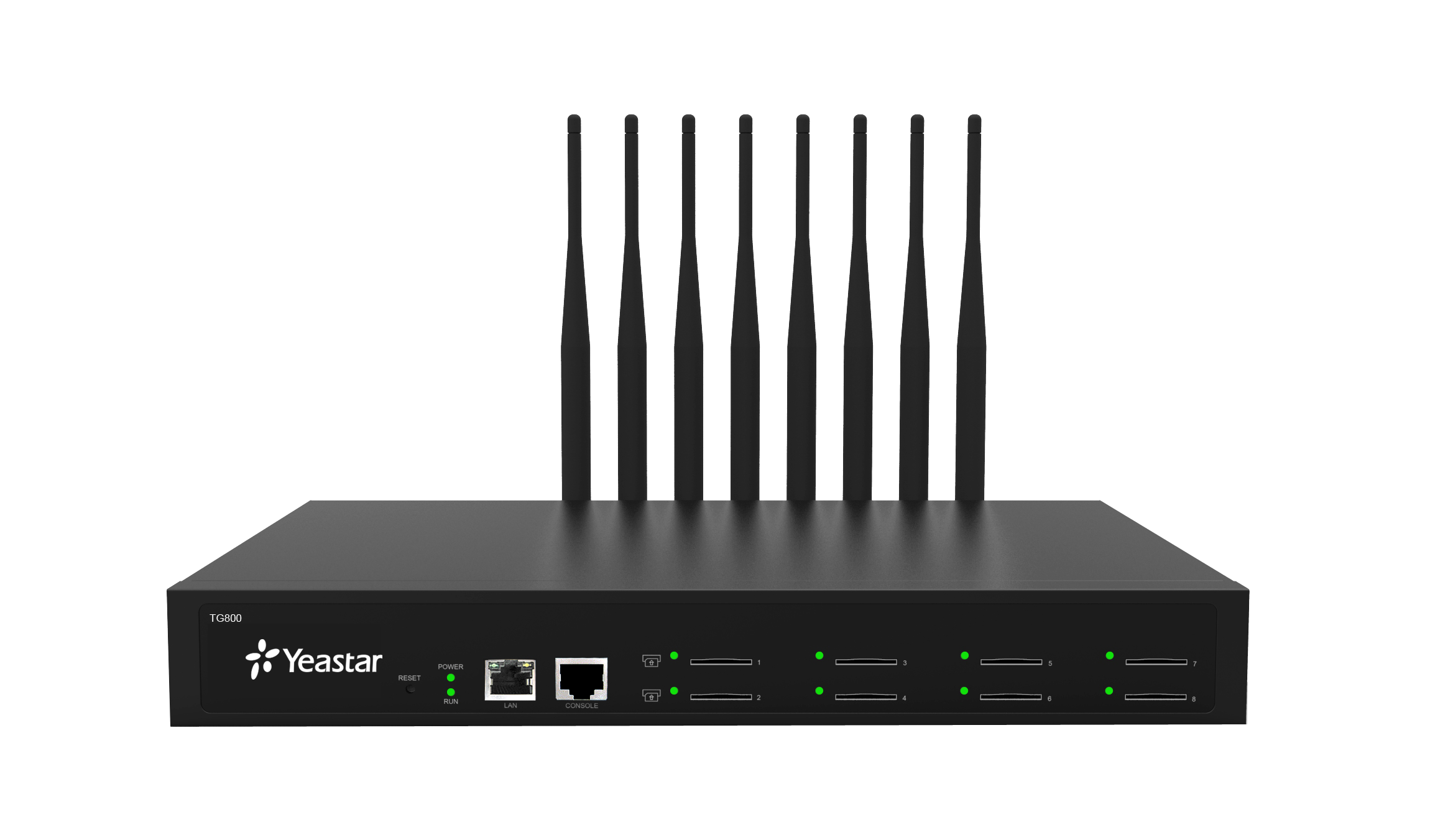 Channels: 8x GSM/CDMA/UMTS
GSM Frequency: 850/900/1800/1900MHz
CDMA Frequency: 800MHz
UMTS Frequency: 850/1900, 850/2100, 900/2100MHz
Switch Port: LAN 10/100Base-T
Protocol Support: SIP, IAX2
Audio Codecs: G.711a/u-law, G.722, G.726, G.729A, GSM, ADPCM, Speex
Echo Cancellation: yes
Management: web UI
Dimensions: 13.39" x 8.27" x 1.73"

TG1600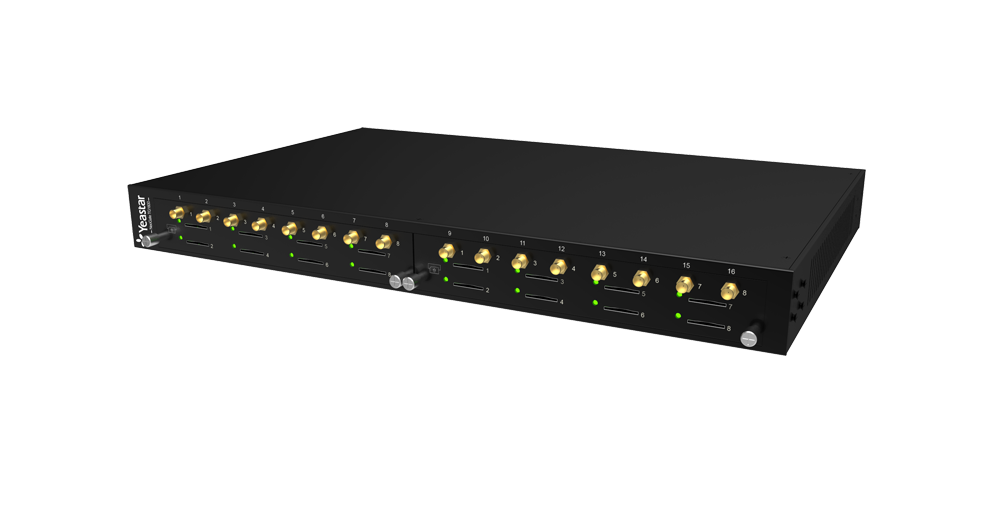 Channels: 16x GSM/CDMA/UMTS
GSM Frequency: 850/900/1800/1900MHz
CDMA Frequency: 800MHz
UMTS Frequency: 850/1900, 850/2100, 900/2100MHz
Switch Port: LAN 10/100Base-T
Protocol Support: SIP, IAX2
Audio Codecs: G.711a/u-law, G.722, G.726, G.729A, GSM, ADPCM, Speex
Echo Cancellation: yes
Management: web UI

TA400


Connections: 4x RJ11 FXS
Switch Port: 1x 10/100Base-T Ethernet
Protocol Support: SIP, IAX2
Audio Codecs: G.711a/u-law, G.722, G.723, G.726, G.729A, GSM
Fax Codecs: T.38 & pass-through
Echo Cancellation: yes
QoS: supported
Management: via web UI
Dimensions: 7.87" x 5.39" x 0.98"
Mounting: desktop, wall

TA410


Connections: 4x RJ11 FXS
Switch Port: 1x 10/100Base-T Ethernet
Protocol Support: SIP, IAX2
Audio Codecs: G.711a/u-law, G.722, G.723, G.726, G.729A, GSM
Fax Codecs: T.38 & pass-through
Echo Cancellation: yes
QoS: supported
Management: via web UI
Dimensions: 7.87" x 5.39" x 0.98"
Mounting: desktop, wall

TA800

Connections: 8x RJ11 FXS
Switch Port: 1x 10/100Base-T Ethernet
Protocol Support: SIP, IAX2
Audio Codecs: G.711a/u-law, G.722, G.723, G.726, G.729A, GSM
Fax Codecs: T.38 & pass-through
Echo Cancellation: yes
QoS: supported
Management: via web UI
Dimensions: 7.87" x 5.39" x 0.98"
Mounting: desktop, wall

TA810


Connections: 8x RJ11 FXO
Switch Port: 1x 10/100Base-T Ethernet
Protocol Support: SIP, IAX2
Audio Codecs: G.711a/u-law, G.722, G.723, G.726, G.729A, GSM
Fax Codecs: T.38
Echo Cancellation: yes
QoS: supported
Management: via web UI
Dimensions: 7.87" x 5.39" x 0.98"
Mounting: desktop, wall

TA1600


Connections: 16x RJ11 FXS, 1x RJ21 FXS
Switch Port: 1x 10/100Base-T Ethernet
Protocol Support: SIP, IAX2
Audio Codecs: G.711a/u-law, G.722, G.723, G.726, G.729A, GSM
Fax Codecs: T.38 & pass-through
Echo Cancellation: yes
QoS: supported
Management: via web UI
Dimensions: 17.32" x 9.84" x 1.73"
Mounting: desktop, rack

TA1610


Connections: 16x RJ11 FXO, 1x RJ21 FXS
Switch Port: 1x 10/100Base-T Ethernet
Protocol Support: SIP, IAX2
Audio Codecs: G.711a/u-law, G.722, G.723, G.726, G.729A, GSM
Fax Codecs: T.38
Echo Cancellation: yes
QoS: supported
Management: via web UI
Dimensions: 17.32" x 9.84" x 1.73"
Mounting: desktop, rack.

TA3200

4/8/16/24/32 FXS ports or 4/8/16 FXO ports
Flexible calling rules
Reliable fax performance with T.38
Provides high-quality voice compression with industry standard codecs
Line echo cancellation for 8, 16, 32, 64 or 128 ms echo delays
Web-based GUI for easy configuration
Excellent interoperability with a wide range of legacy and IP equipment

TE200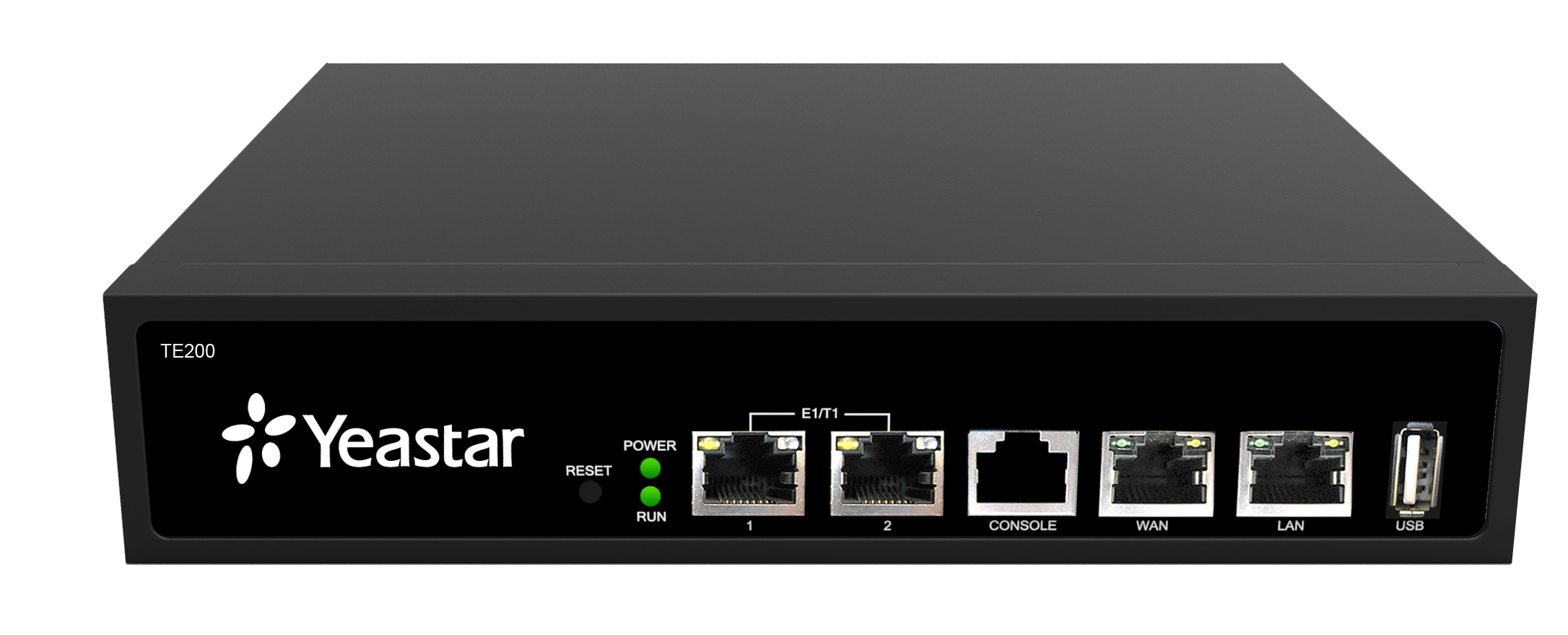 Connections: 2x T1
Switch Port: 2x 10/100 Mbps (LAN/WAN)
Addt'l Port: USB
Concurrent Calls: up to 60
Protocol Support: SIP (RFC3261)
Signalling Support: PRI, MFC R2, SS7, E&M
Audio Codecs: G.711a/u-law, G.722, G.726, G.729A, GSM
Fax Codecs: T.38
Echo Cancellation: yes
QoS: supported
Management: via web UI
Dimensions: 8.39" x 6.30" x 1.73"

N412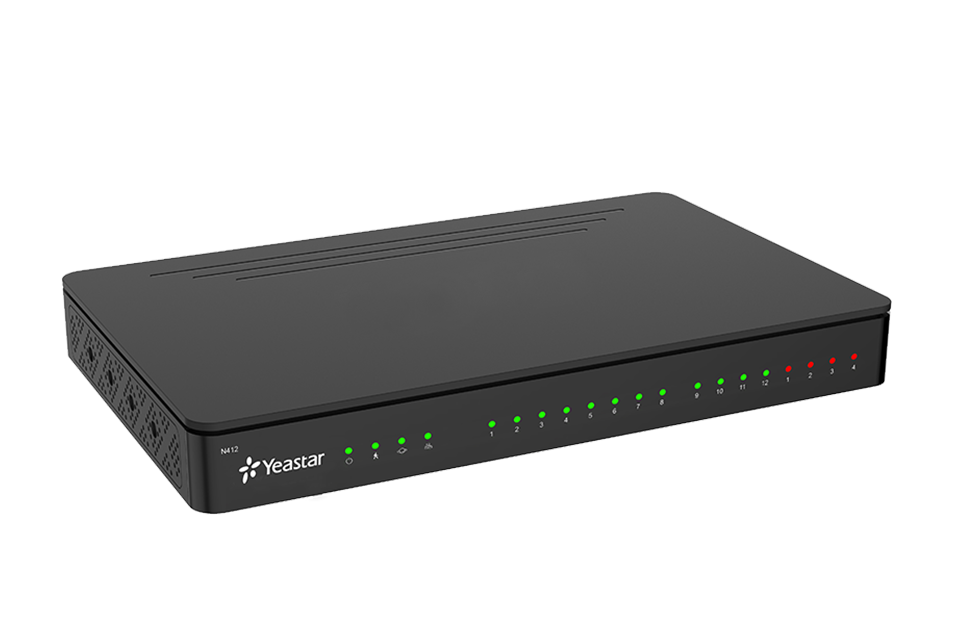 Flexible and modular PBX that provides a productivity-enhancing communication platform for small business
Pre-configured with 8 FXS ports and customizable with 4 module slots
2 module slots for internal extensions
2 module slots for external CO/BRI lines
Up to 8 SIP extensions
Up to 4 SIP trunks
Up to 8 concurrent calls
Built-in multi-level Auto Attendant
Built-in call recording capability
Timed condition routing
Voicemail to email
Voicemail forwarding
No licensing fees
Intuitive web-based GUI
Audio Codecs: G.711 a-law/u-law, G.722, G.726, G.729 A/B, GSM, iLBC

N824


Voicemail messages
Multi-level auto-attendant
Call recording capability
Timed condition routing
No extra licensing fee

EX30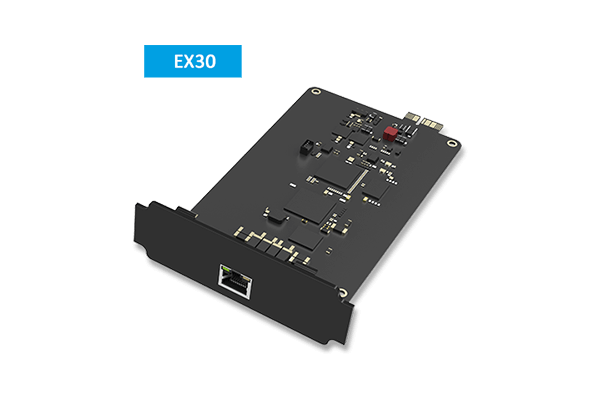 1 E1/T1/PRI port
Can add 2 expansion cards to S100 and 3 to S300

D30

The Yeastar D30 DSP (digital signal processor) module can be inserted into a Yeastar S100 or S300 IP-PBX, letting the VoIP PBX support an additional 100 users and 30 concurrent calls. Expand the power of your VoIP phone system without the need of expensive hardware.

3G Module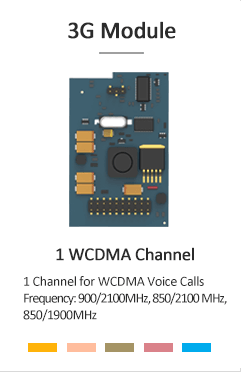 The Yeastar UMTS 3G is a module for giving your Yeastar IP-PBX a single 3G or UMTS channel of cellular connectivity. The radio works on the 900/2100, 850/2100 and 850/1900 MHz bands and uses a SIMCon GSM engine. Insert a SIM card into this module just as you would a cell phone.

Gsm Module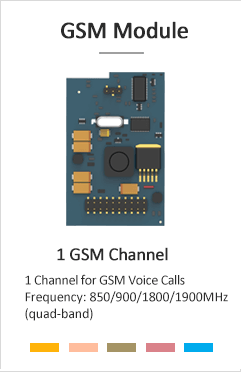 GSM channels: 1 Channels.
Network types: 850/900/1800/1900 MHz (quad-band).
GSM engine: SIMCom.
Transmitter power: +33dBm(2W) 850/900MHz,+30dBm(1W) 1800/1900M.
SIM card: 1 SIM per channel.
Small plug-in, 3V.

O2 Module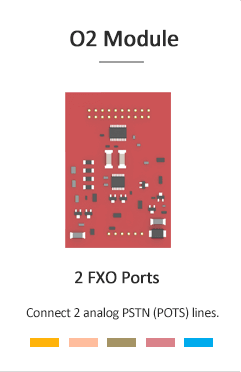 Yeastar O2 is a module for inserting into a compatible Yeastar IP-PBX, giving two of the PBX's RJ11 ports FXO connectivity. The FXO ports can be used for connecting a VoIP phone system to POTS (analog) telephone lines.

S2 Module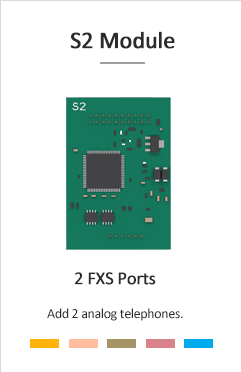 Install the Yeastar S2 module on compatible Yeastar MyPBX or S-Series modular phone systems. The module brings two FXS ports to the IP PBX. MyPBX is a line of modular phone systems that let you customize connectivity types. Combine several modules on one IP PBX, and truly interconnect your existing endpoints and services. This FXS module supports devices like analog phones and fax machines.

SO Module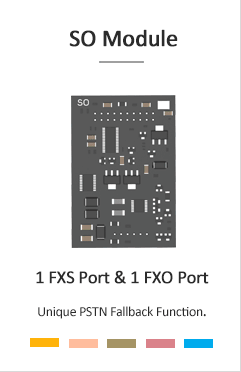 Yeastar SO Module features one FXS port and one FXO port. Install the module on a compatible Yeastar S-Series or MyPBX phone system. The modular design of the phone systems allow you to customize connectivity types. Use this module to connect an analog phone and a PSTN line, for example.

CP860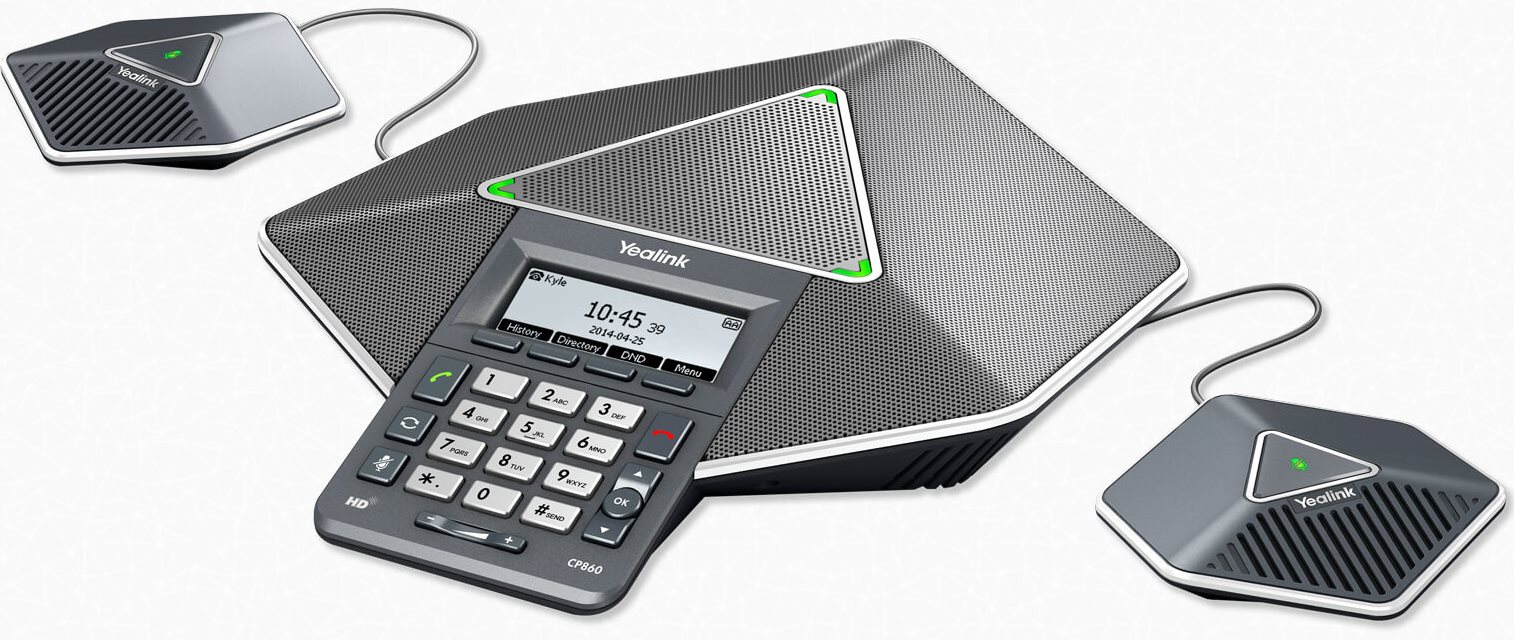 Optima HD voice, full duplex technology
10-feet and 360 degree voice pickup
Optional expansion microphones for wider reception
320ms echo cancellation tail length
Connect to a mobile phone or PC for conference calls
5-way conferencing support
USB call recording support

CPE80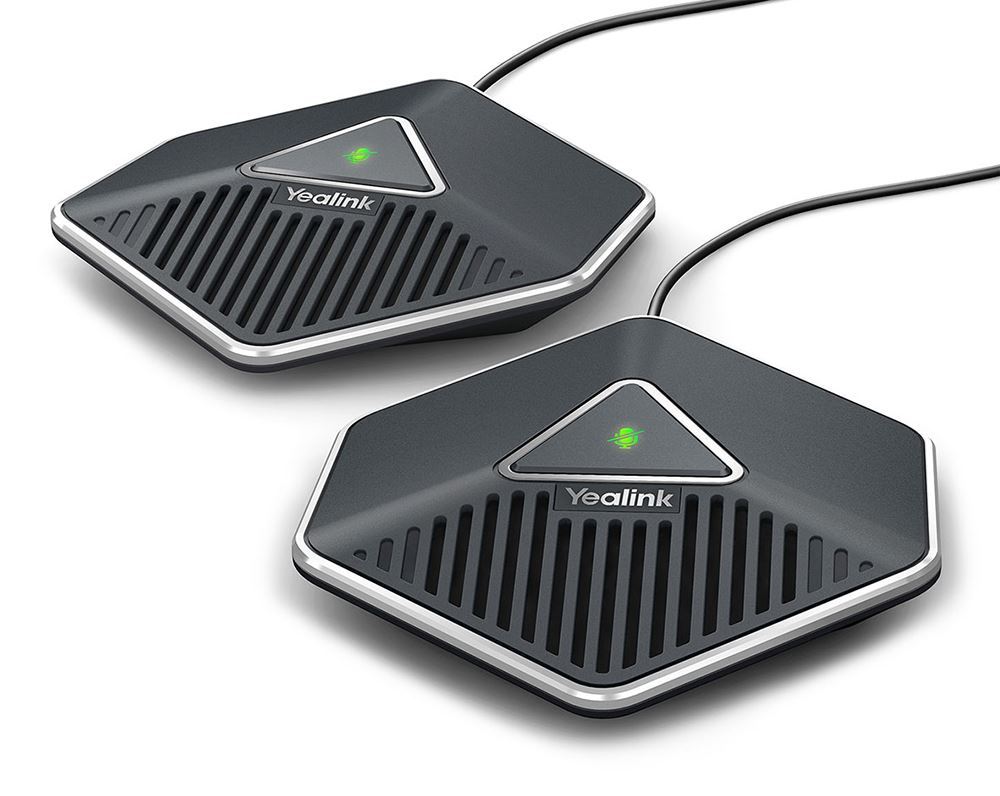 Optima HD voice, full duplex technology
10-feet (3-meters) 120°H voice pickup
Capacitive mute touchpad with bicolor LED
Echo cancellation
For use with Yealink CP860

CPN10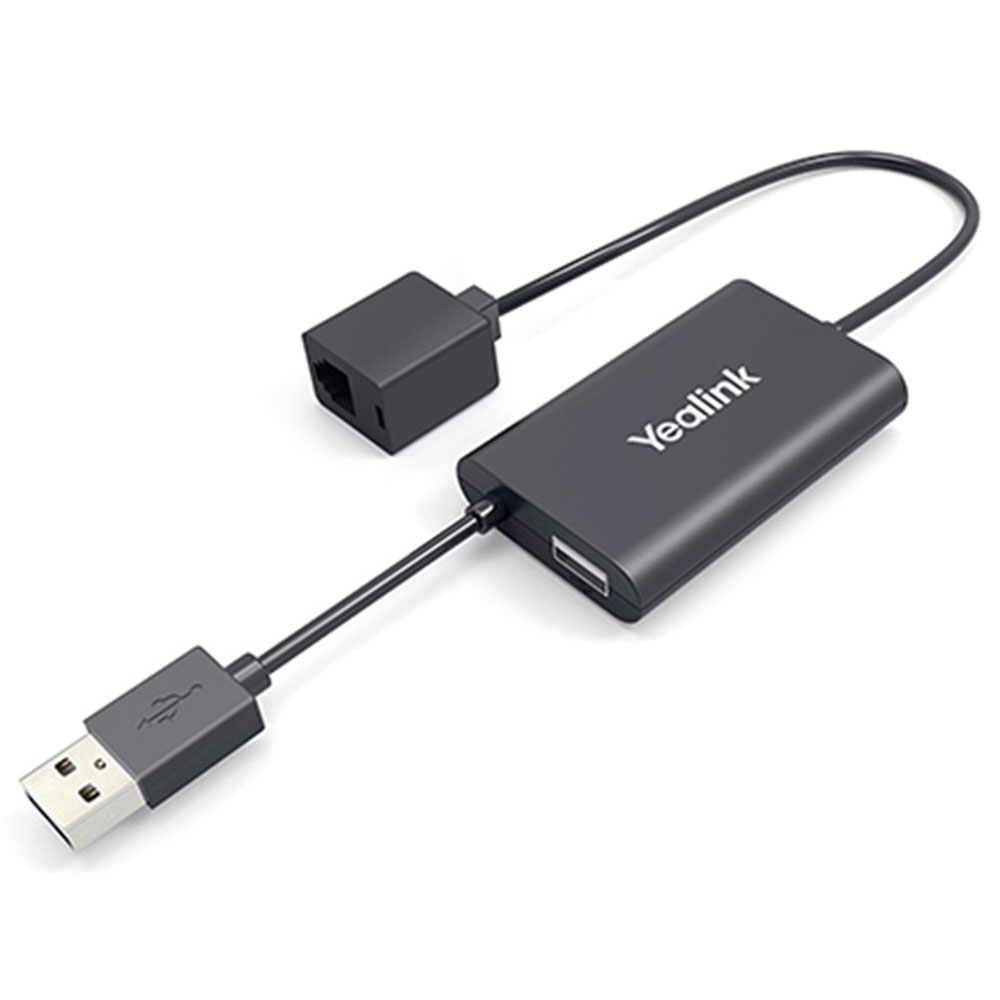 PSTN box CPN10 is used to connect CP860 conference phones to the PSTN (Public SwitchedTelephone Network).
Support Yealink Diamond IP Conference Phone CP860
Plug and play
Easy to use
No additional power needed
USB call recording
Support up to 2 cascaded CPN10 to setup PSTN conference

SIP-T58V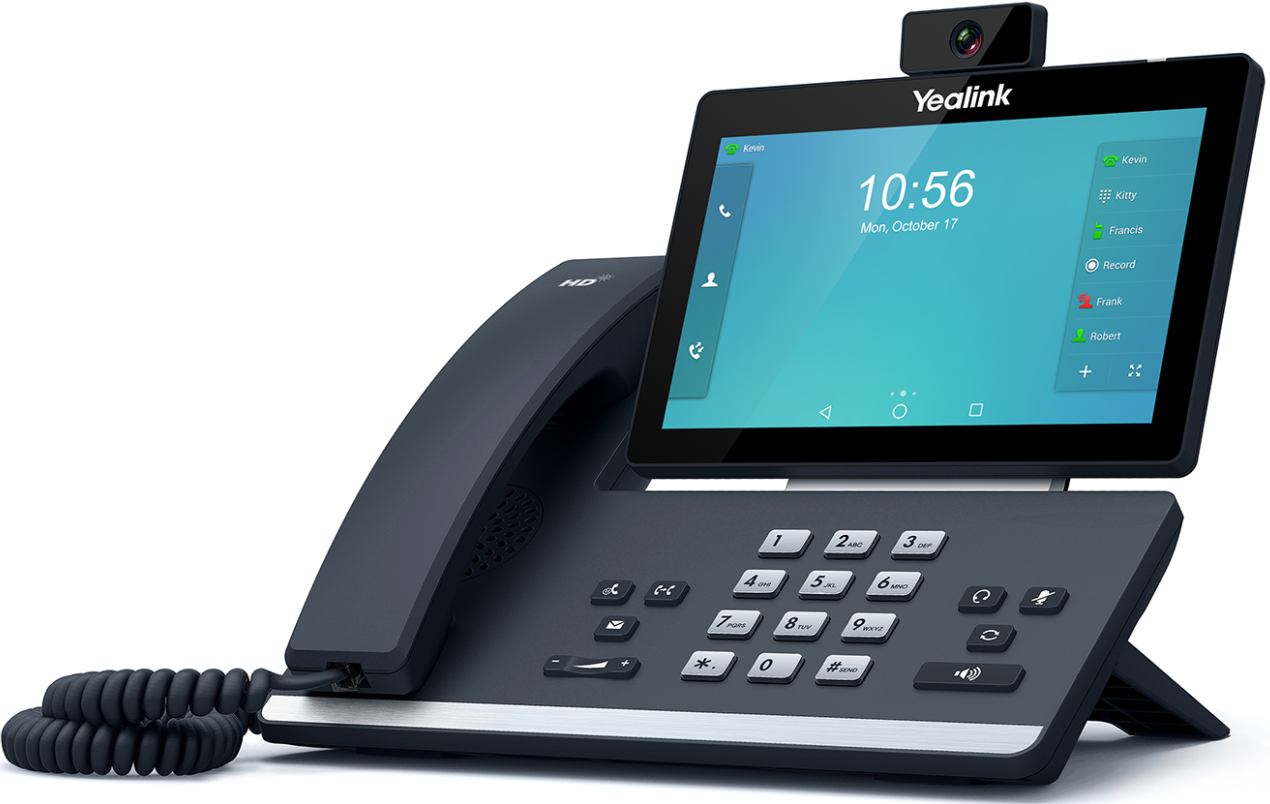 7 inch (1024 x 600) capacitive adjustable touch screen
720p30 HD video
Runs Android 5.1.1
Built-in Bluetooth 4.0+ for headsets and pairing mobile devices
Built-in Wi-Fi (802.11b/g/n)
USB 2.0 port (2.0 compliant) for USB headset, media and storage applications
Opus Codec support
Up to 16 VoIP accounts
Up to 3-party video conferencing
Up to 5-party video/audio mixed conferencing
Wall mountable
Color-screen Expansion Module support

SIP-T58A

7 inch (1024 x 600) capacitive adjustable touch screen
720p30 HD video
Runs Android 5.1.1
Built-in Bluetooth 4.0+ for headsets and pairing mobile devices
Built-in Wi-Fi (802.11b/g/n)
USB 2.0 port (2.0 compliant) for USB headset, media and storage applications
Opus Codec support
Up to 16 VoIP accounts
Up to 3-party video conferencing
Up to 5-party video/audio mixed conferencing
Wall mountable
Color-screen Expansion Module support

SIP-T56a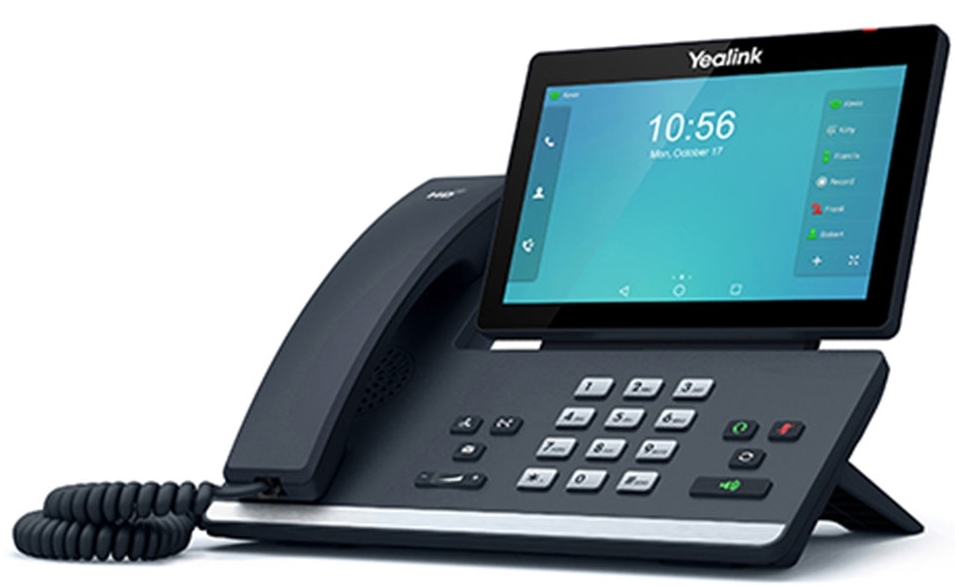 7 inch (1024 x 600) capacitive adjustable touch screen
720p30 HD video
Runs Android 5.1.1
Built-in Bluetooth 4.0+ for headsets and pairing mobile devices
Built-in Wi-Fi (802.11b/g/n)
USB 2.0 port (2.0 compliant) for USB headset, media and storage applications
Opus Codec support
Up to 16 VoIP accounts
Up to 3-party video conferencing
Up to 5-party video/audio mixed conferencing
Wall mountable
Color-screen Expansion Module support

SIP-T54S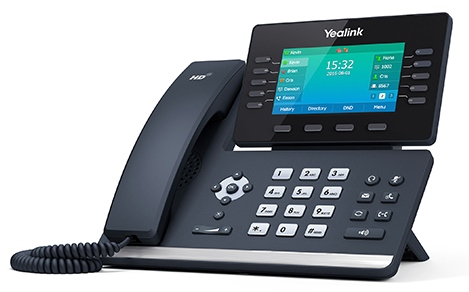 New structure design
4.3" 480 x 272-pixel color display with backlight
Built-in Bluetooth 2.1
USB 2.0 port for USB recording and wired/wireless USB headsets
Opus Codec support
T54S&T52S firmware and Auto-P template unified
Up to 16 VoIP accounts
Dual-port Gigabit Ethernet
PoE support
Paperless label design
Wi-Fi via WF40
Color-screen Expansion Module support
Stand with 2 adjustable angles

SIP-T52S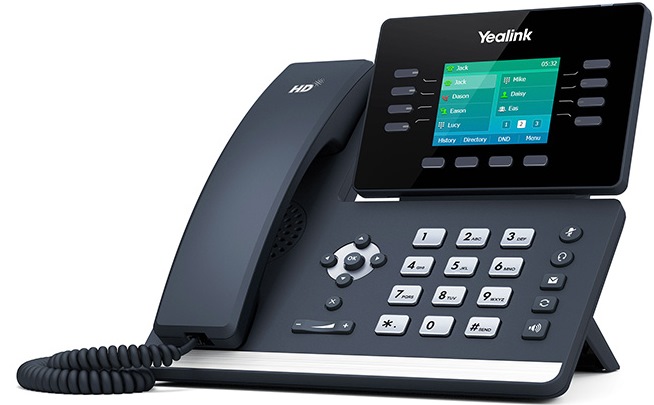 New structure design
2.8" 320 x 240-pixel color display with backlight
Built-in Bluetooth 2.1
USB 2.0 port for USB recording and wired/wireless USB headsets
Opus Codec support
T54S&T52S firmware and Auto-P template unified
Up to 12 VoIP accounts
Dual-port Gigabit Ethernet
PoE support
Paperless label design
Wi-Fi via WF40
Color-screen Expansion Module support
Stand with 2 adjustable angles• New structure design

SIP VP-T49G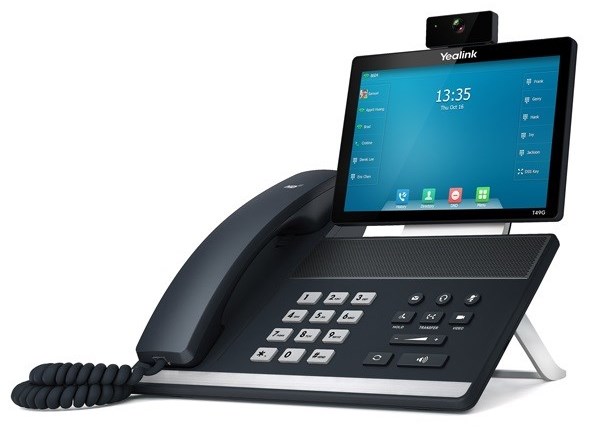 8" 1280 x 800 capacitive (10 points) touch screen IPS LCD
Full-HD 1080p30 video call
2 mega-pixel HD camera with privacy shutter
Built-in Bluetooth 4.0+ EDR for headsets and pairing mobile devices
Built-in Wi-Fi (Dual-band:2.4GHz & 5GHz, 802.11a/b/g/n)
Standard HDMI output for connection to monitor
USB ports (2.0 compliant) for media and storage applications
Up to 16 SIP accounts
Three-way video conferencing
Five-way audio/video mixed conferencing

T41S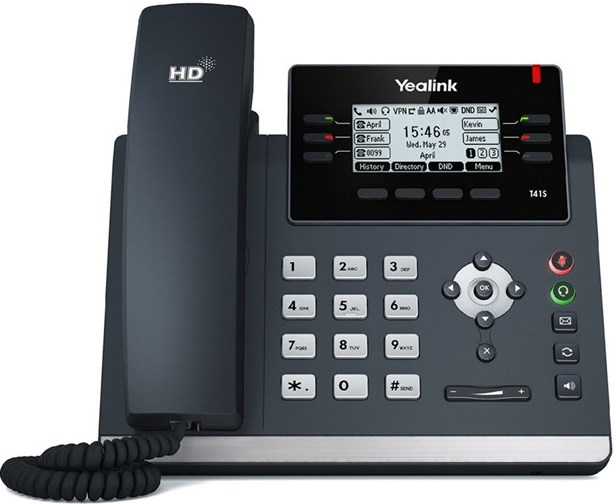 2.7-inch 192X64-pixel graphical LCD with backlight
USB 2.0
Opus
Up to 6 SIP accounts
Paperless label design
EHS support
PoE support
Integrated stand with two adjustable angles
Wall-mountable

T42S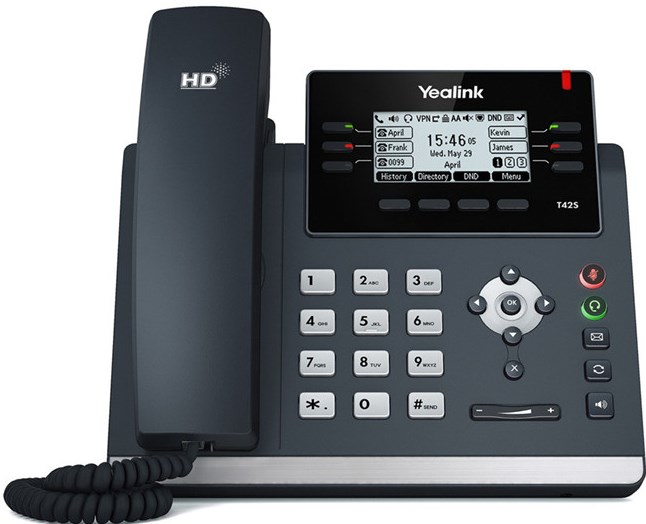 2.7" 192x64-pixel graphical LCD with backlight
Opus* codec support
USB 2.0
T4S Auto-P template unified
T4S firmware unified
Up to 12 SIP accounts
Dual-port Gigabit Ethernet
PoE support
Paperless label design
Headset, EHS support
Integrated stand with 2 adjustable angles
Wall mountable

T46S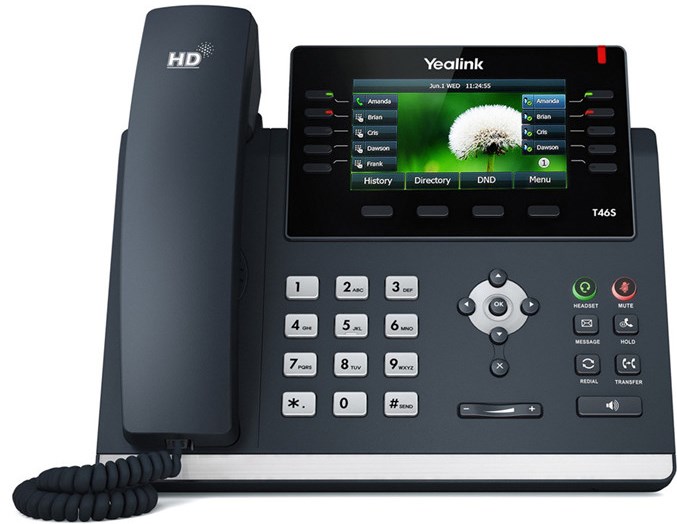 4.3" 480 x 272-pixel color display with backlight
Opus* codec support
USB 2.0
T4S Auto-P template unified
T4S firmware unified
Up to 16 SIP accounts
Dual-port Gigabit Ethernet
PoE support
Paperless label design
Headset, EHS support
Wi-Fi via WF40
Bluetooth via BT40
USB recording
Supports expansion modules
Stand with 2 adjustable angles

T48S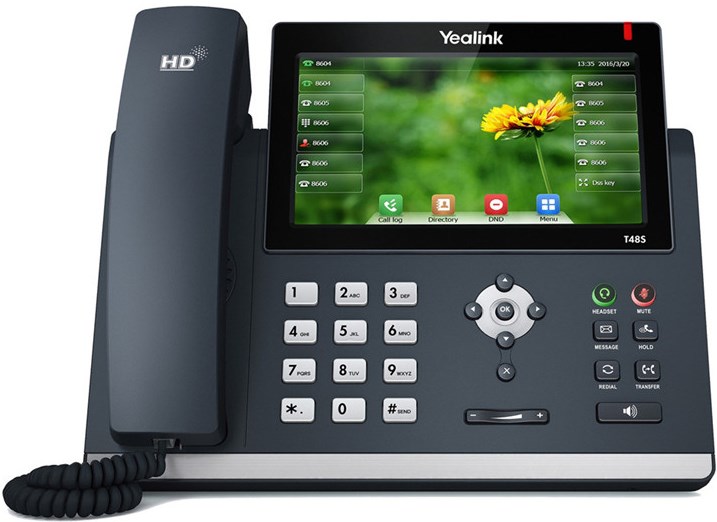 7" 800 x 480-pixel color touch screen with backlight
Opus* codec support
USB 2.0
T4S Auto-P template unified
T4S firmware unified
Up to 16 SIP accounts
Dual-port Gigabit Ethernet
PoE support
Paperless label design
Headset, EHS support
Wi-Fi via WF40
Bluetooth via BT40
USB recording
Supports expansion modules
Stand with two adjustable angles
Wall mountable

T40G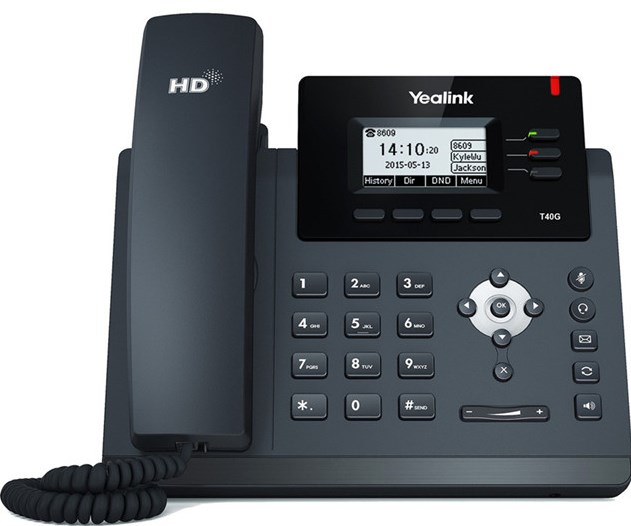 Ultra-elegant Gigabit IP Phone
2.3" 132x64-pixel graphical LCD with backlight
Dual-port Gigabit Ethernet
Up to three SIP accounts
Paper label-free design
Opus codec support
PoE support
Headset, electronic hook switch(EHS) support
Stand with two adjustable angles

W52P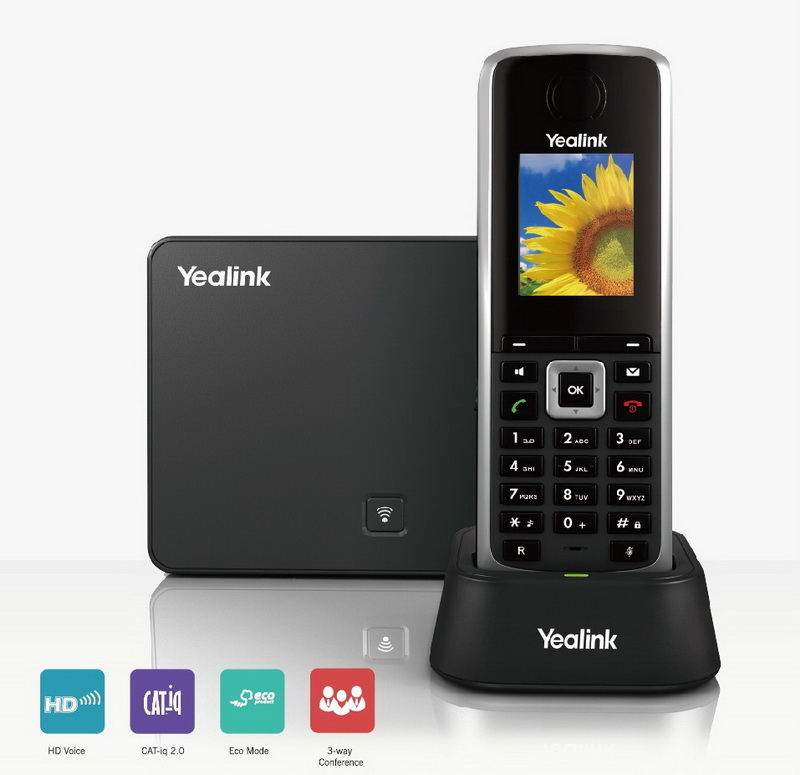 Up to 4 simultaneous calls
Up to 5 handsets, Up to 5 VoIP accounts
11 hours talk time, 120 hours standby time
Handset select for receiving call
Handset and Number select for making call
Paging, Intercom, Auto answer
Call hold, Call transfer
Switching between calls
3-way conferencing
Call waiting, Mute, DND
Caller ID display, Redial
Anonymous call, Anonymous call rejection
Call forward (Always/Busy/No Answer)
Speed dial, Voicemail, Silence
Message Waiting Indication (MWI)
Local Phonebook for up to 500 entries (store in the base)
Remote Phonebook
Phonebook search / import / export
Call history (Outgoing/Missed/Accepted)
Direct IP call without SIP proxy
Reset to factory, Reboot
Keypad lock, Emergency call
Dial Plan, Music on hold
Broadsoft Directory, BroadSoft Call Log
Broadworks Feature Key Synchronization
Includes Power Supply

W52H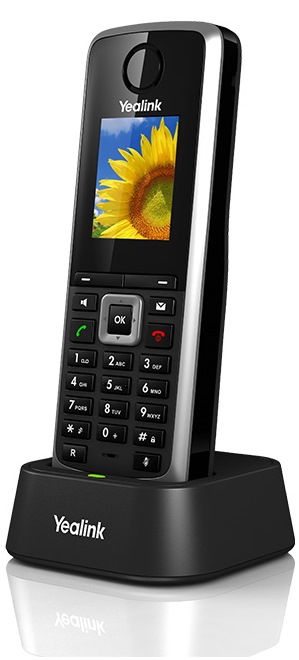 Up to 4 simultaneous calls
Exceptional HD sound with wideband technology
1.8" color display with intuitive user interface
3-way conference
Phonebook search / import / export
Keypad lock, Emergency call
11 hours talk time - 120 hours standby time
Integrated PoE (Class 1)
Desktop or wall mountable

W56P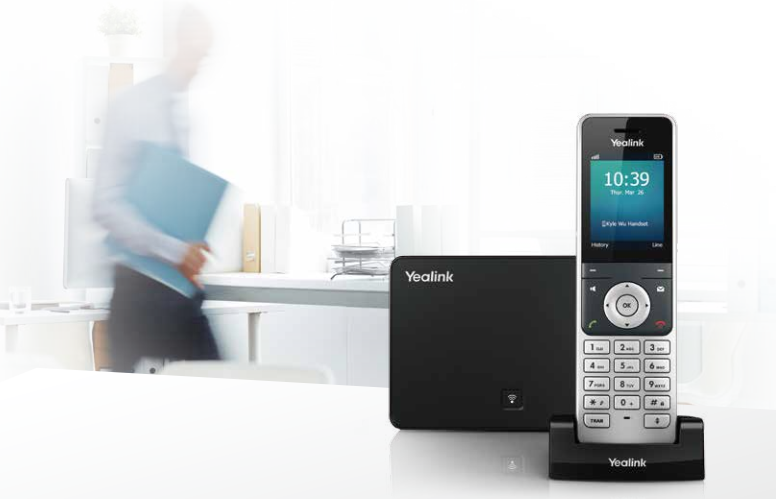 High-end ID design
Exceptional HD sound with wideband technology
Up to 4 simultaneous voice calls
Up to 5 DECT cordless handsets
Up to 5 Multiple Lines
2.4" 240 x 320 color screen with intuitive user interface
Up to 30 hours talk time, Up to 400 hours standby time
Quick charging: 10 mins charge time for 2 hours talk time
USB Charger Cradle
Headset connection via 3.5 mm jack
Charger wall mountable
New belt clip with better user experience

W56H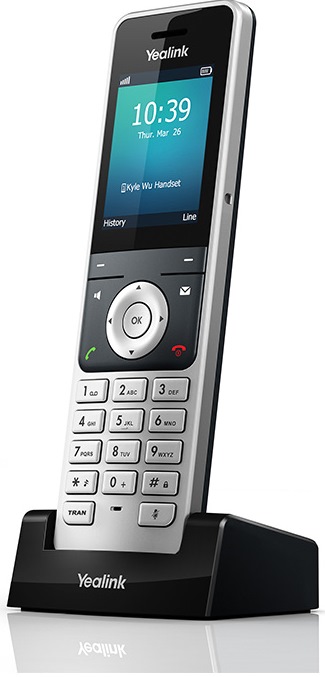 High-end ID design
Exceptional handsfree talking
2.4" 240 x 320 color screen with intuitive user interface
Headset connection via 3.5 mm jack
Up to 30 hours talk time
Up to 400 hours standby time
Elegant keypad design with illumination and keypad lock

T29G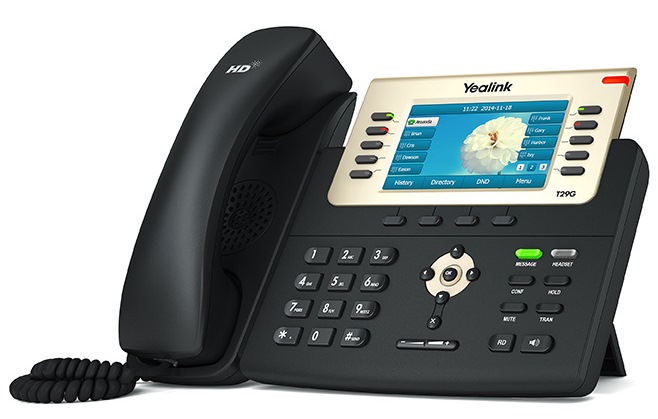 Yealink Optima HD voice
Dual-port Gigabit Ethernet
4.3" 480 x 272-pixel color display with backlight
Built-in a USB port, supports Bluetooth headset (Through USB Dongle)
Up to 16 SIP accounts
Paper label free design
PoE support
Headset, EHS support
Supports expansion modules
Stand with 2 adjustable angles
Wall mountable
Simple, flexible and secure provisioning options

T27G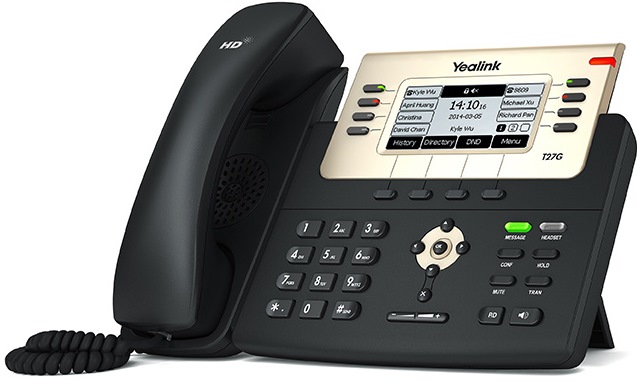 Yealink Optima HD voice
3.66" 240x120-pixel graphical LCD with backlight
Gigabit
USB 2.0
Opus* codec support
Up to 6 SIP accounts
Paper label free design
PoE support
Headset, EHS support
Supports expansion modules

T23G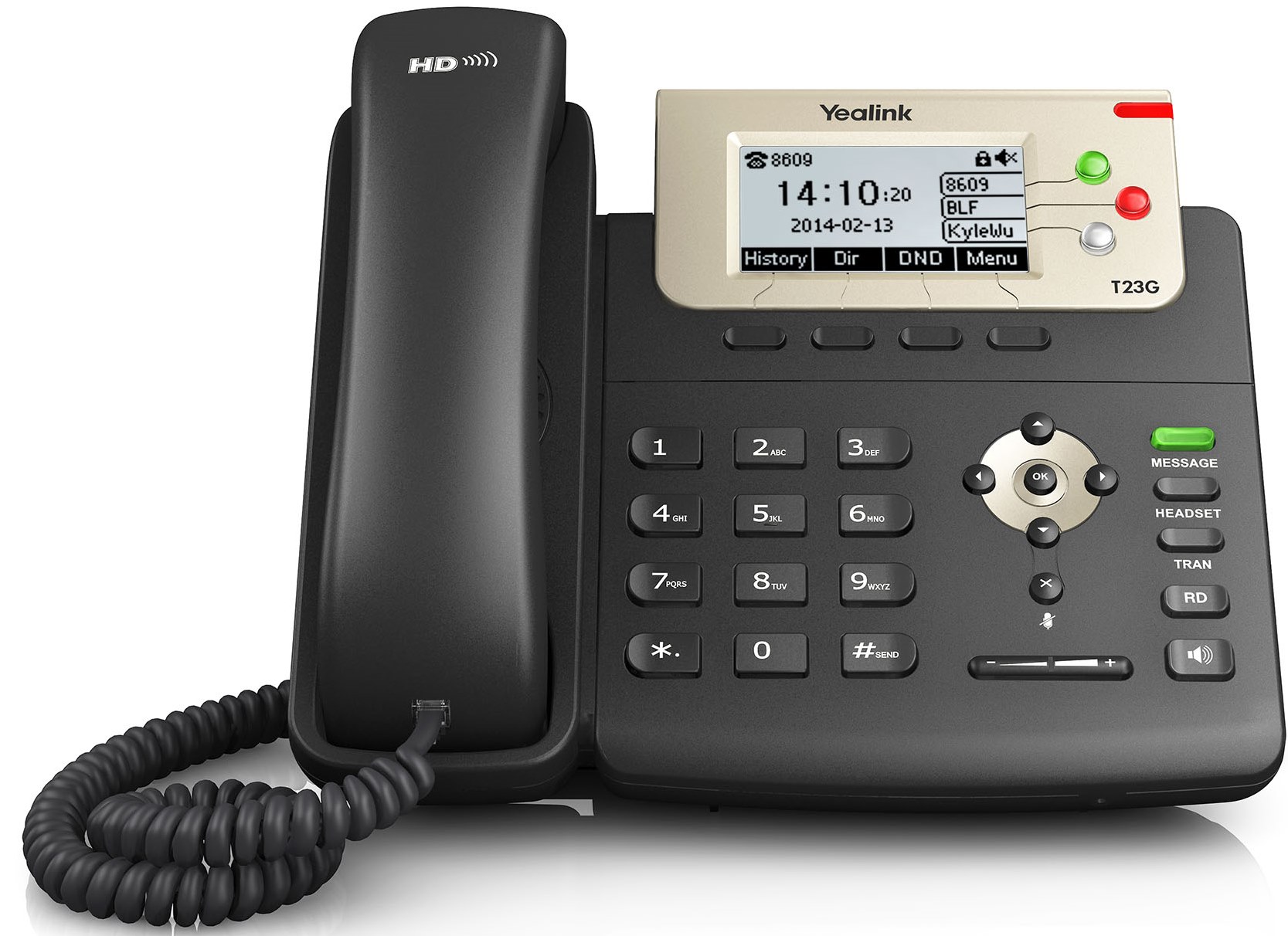 3 Line Appearances
Dual-port Gigabit Ethernet
Yealink Optima HD Voice Supported
Up to 3 SIP accounts
Full-duplex hands-free speakerphone
RJ9 Headset Port
132x64 graphic LCD display
Wall mountable

T21P E2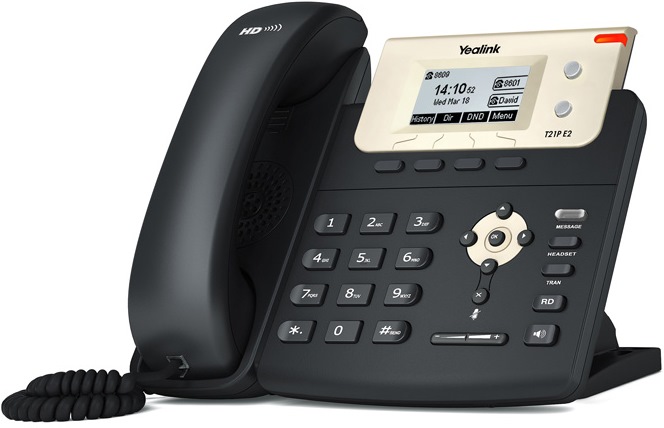 Yealink HD Voice
132x64-pixel graphical LCD with backlight
Two-port 10/100M Ethernet Switch
PoE support
Up to 2 SIP accounts
Headset support
Wall mountable
Simple, flexible and secure provisioning options

T21 E2

6 VoIP accounts, hotline, emergency call
Call waiting, call transfer, call forward
Hold, mute, flash, auto-answer, redial
3-way conference, DND, speed dial
XML Phonebook search/import/export
Black list, call history (100 entries)
Volume adjustment, ring tone selection
Tone scheme, System log
Multi-language (more than 20)
Supports up to 6 expansion modules

YHS33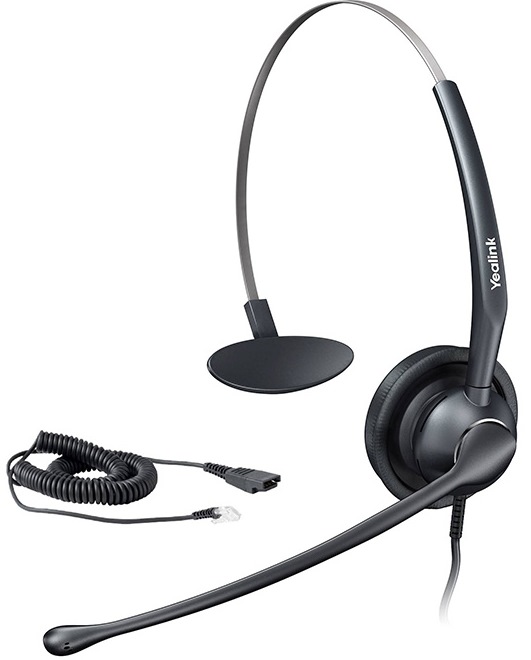 Noise Cancelling
Featherweight
Ergonimic design
Comfortable & adjustable
Plug and play
Compatible with Yealink T2, T3 and T4 Series IP phones